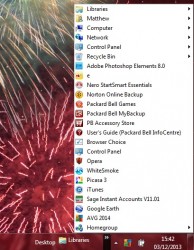 Windows includes various shortcut options for software, documents and folders. Shortcuts give you quicker access to your documents, files, and software. On Windows XP, Vista, 7, and 8, you can turn your Windows folders into taskbar "toolbars" that allow you to easily access the content of the folders from your taskbar (see screenshot to the right for an example). This guide shows you how to use those toolbars.
How to easily access folder content form your taskbar on Windows Vista, 7, and 8
To add new toolbars to the taskbar, right-click the taskbar to display some menu options. From there you should select Toolbars and New toolbar. That should open the Windows Explorer window. From there select a suitable folder, and then click on the Select Folder option. The folder's title should then be added to the taskbar, as shown below.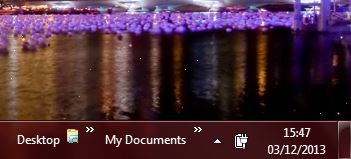 As you can see, the My Documents folder has become a toolbar in the shot above. Click on the double-arrow next the folder name to open an expanding menu of its contents, and select whatever files, documents, software, etc. you want to open. It is as easy as that.
To remove a toolbar from the taskbar, right-click the toolbar, select Toolbars and untick the folder's name.
Conclusion
Adding folder toolbars to the taskbar is a good way to quickly access your files and software. Enjoy!
Related Posts