Sometimes it's really irritating when Windows restarts after installing an update and you might lose your data . However there's a workaround that prevents windows from restarting after an update . This option is built inside windows and doesn't require any special software to do the task . Follow the steps mentioned below to find out the method .
BEFORE WE BEGIN
You need Windows 8 Pro for this trick to work, as gpedit.msc can only be found in Windows 8 Pro.
How to stop automatic restart when updating Windows 8
Step 1 : Press Windows Logo + R to bring up the run command .
Step 2 : Type in gpedit.msc and press open .
Step 3 : A new windows called "Local Group Policy Editor" opens . Go to the following directory :
Computer Configuraton>>Administrative Templates>>Windows Components>>Windows Update
Step 4 : Once you open Windows Update , you'll see a list of policies located on the right side . Find and double click the following policy :
No auto-restart with logged on users for scheduled automatica updates installations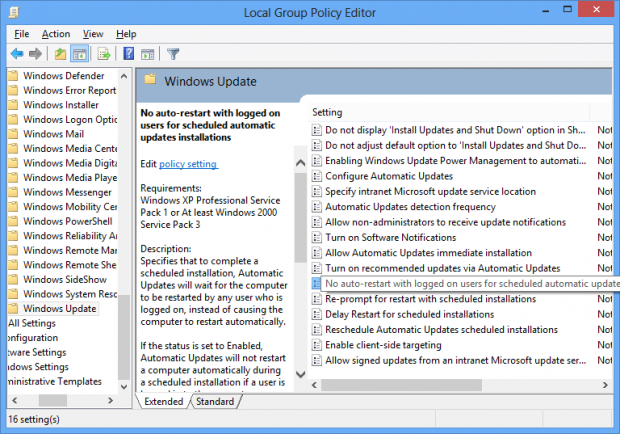 Step 5 : Once open , select "Enabled" and click Ok . You're all done now!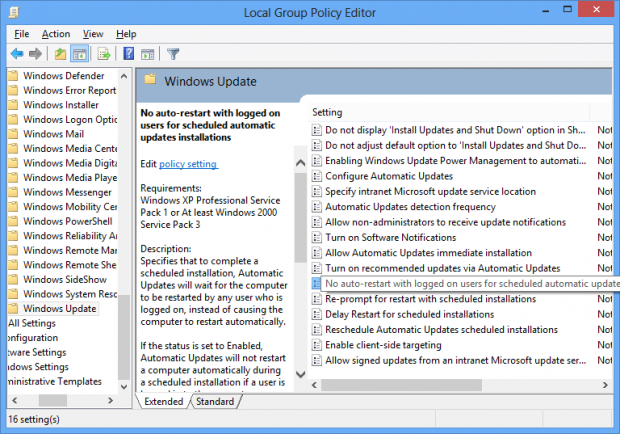 CONCLUSION
If you follow the steps above properly , Windows will not restart automatically upon your next update . Enjoy !
Related Posts