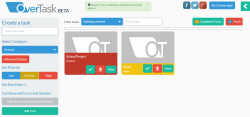 Majority of today's mobile and web browsers allows users to open multiple pages in separate tabs. This feature is very convenient especially if you like to multi-task. However, the habit of opening multiple tabs can take a toll on you. The same goes for your web browser. So if you want a more efficient way to manage your tabs, you can try using OverTask – a free extension for Chrome that will automatically organize your tabs as tasks.
What is it and what does it do
Main Functionality
OverTask is a free extension for Chrome and it is basically intended to help you manage and organize your tabs in a unique fashion. Once installed, this extension will automatically replace your New Tab homepage and it will allow you to sort out your tabs as tasks. How? Well, the process is pretty simple. The extension will automatically detect your current tabs and it will put those tabs into your active "task". Your active task refers to the task that you are currently viewing. Say, for example, you have two tasks in your OverTask dashboard and you decided to view the task that you labelled as "Work". Therefore, all of the tabs that you have opened during this period will be tracked and added to "Work". So if you decide to switch to another task, the extension will also close all of the tabs that were placed in "Work".
Pros
Easy to use, stable UI
Offers a hassle-free method to manage and organize tabs as tasks
No user log-in or registration required
There's no limit to the number of tasks that you can create
You can sort out your tasks by category – general, programming, personal, writing, fun, work and cooking. For every task, your tabs will also be sorted out into three categories – Do, Research and Communicate
You can mark your tasks as "complete"; you can also place your idle tasks into the trash bin (with the option to permanently delete or restore)
Advanced options – you are allowed to set the task priority into high, medium or low; you are also allowed to set the due date as well as to continue with your current browsing session
Task filters – filter your task by priority, you can also search for specific task by typing a phrase or keyword
Cons
No thumbnails or special icons – all of the tasks are presented in uniform fashion. You cannot upload your own photo or image to customize the task icon
Lack of options for viewing your tasks in different modes – ex. thumbnail view, list view, detailed view, etc.
No option for data backup and restore
Discussion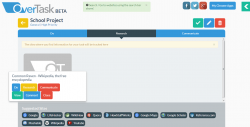 If you are the type who likes to browse the web using multiple tabs, then you could definitely use a tool like OverTask. With this tool, you can manage all of your tabs in just one place and you can even sort them out as tasks.
For starters, the concept of managing tabs as tasks might sound a bit confusing but once you get used to it, it will be much easier for you to sort out your tabs. To get started, the first thing that you need to do is to install the OverTask extension on your Chrome browser. Once installed, the extension will automatically replace your New Tab home page. After which, you launch the OverTask dashboard by opening a new tab. In the dashboard, you will see bunch of options. Go to the "Create a Task" section then enter your preferred task name (ex. Work, School Project, etc.) then select the category that would best describe your task. Click the advanced options, set its priority to high, medium or low then you can also opt to set the due date. If you have some tabs opened prior to your first task creation, you can click on the "add current tabs to task" button. Once everything is all set, click the "Add Task" button and wait until the new task appears in the Active Tasks section.
While browsing, keep in mind that all of your tabs will be tracked and monitored. Your tabs will also be sorted out according to their category. For every task, your tabs will be automatically categorized as Do, Research or Communicate. The "Do" category is for tabs that lead to sites like Prezi, Dropbox and Evernote. The "Research" category is for tabs that involves wiki pages and articles. Meanwhile, the "Communicate" category is meant for tabs that allow you to communicate with other people – ex. Gmail, Facebook, Google Plus and Twitter.
Functionality wise, I can say that OverTask offers a good solution for managing multiple tabs. It also has a unique way of sorting out tabs into tasks. I like the fact that it saves you from the hassle of clicking through each tab plus it automatically closes all of the tabs that are not related to your current task. It's just that it could have been better if there's an option that will allow you to customize your tasks by adding your own thumbnail image or icon. This tool also lacks the option to present its tasks in different viewing modes. I also find it a bit disappointing that there's no option for data backup and restore. This feature could come in handy especially for instances that involves accidental data loss.
Conclusion and download link
OverTask is basically a tool that combines the concept of enhanced multi-tab browsing and effective task management into one platform. It's a great option especially for individuals who are often using their web browsers to perform different tasks such as promoting products and businesses via websites and social networks. Despite its flaws, I can still say that this tool is definitely worth checking out.
Price: Free

Version reviewed: 0.0.14

Requires: Google Chrome on Windows XP, 2000, Vista, 7, 8, Mac OS X, Linux, etc.

Related Posts