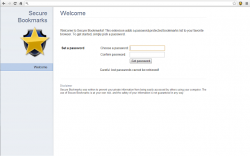 There are a lot of ways to prevent other users from viewing your private files. In most cases, users opt to use a password to lock their private documents and folders. You can also use the incognito window on Chrome to keep other people from tracking your browsing history but what about the links that you placed on your bookmarks list? Is there a way to protect them from prying users? The answer is yes. You can even install a free extension called Secure Bookmarks. Let's find out how this tool works.
What is it and what does it do
Main Functionality
Secure Bookmarks is free extension for Chrome. The main function of this tool is to password protect your bookmarks list so that no one else can access your bookmarks and bookmark folders. Once installed, the extension will ask you to create a secure six-digit password for your bookmarks list. After which, you are free to import your regular bookmarks to your secure bookmarks list and you are also free to add new pages and links. Do keep in mind that this extension won't password protect your existing bookmarks. You need to import them to Secure Bookmarks first.
Pros
Lightweight and convenient, easy to use
Adds a new and secure bookmarks list to your Chrome browser – your bookmarks list is protected by a six-digit password
Adds a shortcut icon at the omnibar so that you can easily access your bookmarks, you can also create new bookmarks and bookmark folders
Import/Export feature – you can import your regular bookmarks into your secure bookmarks list
Auto-logout feature
Configurable user settings – supports data backup and reset
Supports Incognito Mode – you can do this by going to Chrome Settings > Tools > Extensions then select "Allow in Incognito" for Secure Bookmarks
Cons
Doesn't support password recovery – once your password is lost, there is no way for you to recover it
Doesn't have its own bookmark manager, which is both a pro and con depending on the way you think
Discussion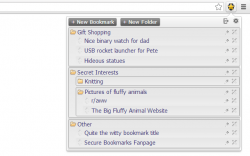 Secure Bookmarks is a simple and convenient tool that you can use to password protect your bookmarks. This tool basically adds a new bookmarks list to your browser so it separates your password protected bookmarks from your regular bookmarks. Once installed, this tool will require you to create a secure six-digit master password. Just make sure to remember your password correctly because if you forget it, there is no way that you can recover it. This tool doesn't support password reset or recovery but you can reset Secure Bookmarks in such a way that it will allow you to start anew. The only downside to this option is that you will lose all of your stored information. It is also said that this extension stores and encrypts your information using Chrome's HTML5 local storage implementation. This means that none of your data will be sent over the Internet.
What I like about this tool is that it is very easy to use and it also supports data import/export. So even if this tool doesn't automatically password protect your existing bookmarks, you can easily transfer them to your bookmarks list. Furthermore, this tool also allows you to access your secure bookmarks even if you've gone incognito.
Another thing that I like about this tool is that it adds a shortcut icon on the omnibar. By using its shortcut icon, you can easily add new bookmarks. You can also create folders to organize your new and existing bookmarks. It also has an auto-logout feature which basically limits the time that you're logged in to your secure bookmarks list. This feature is quite useful especially if you often forget to lock your computer screen or sign out from your user profile.
In general, I can say that this tool does a good job in protecting your private bookmarks. It is great for shared computers as well as for users who simply wants to heighten up their browser's level of security. It's just a bit disappointing to know that this tool doesn't have its own bookmark manager so it makes it difficult for you to browse or search for specific bookmarks especially if you have more than a hundred bookmarked pages on your list.
Conclusion and download link
Secure Bookmarks offers a great option for users who wish to password protect and hide their bookmarks and bookmark folders. It's major let-down is that there is no way to recover your password so if you forget your password you lose your bookmarks. Even so, I would still suggest that you check out this free extension for Chrome especially if you have some bookmarked pages that you do not want to show to others.
Price: Free

Version reviewed: 1.4.5

Requires: Google Chrome on Windows XP, Visa, 7, 8, Linux and Mac OS X

Related Posts