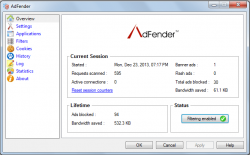 Nowadays, ads are everywhere. Eevery website or blog that you visit, there's always an ad in every page or post (including dotTech and our sister site, SharewareOnSale). Some ads are less annoying but there are those that are simply obtrusive to the extent that you could not properly view or read the content that you want. As for those who are currently seeking for a quick and easy method to get rid of these annoying ads, you might as well consider using this free ad-blocking software for Windows called AdFender.
What Is It and What Does It Do
Main Functionality
AdFender is a free ad-blocking software for Windows that you can use to block almost all sorts of ads regardless if they're presented as pop-ups, clickable links (text ads) or banners. This software runs independent of your web browser and it basically filters the content that appears on various web pages and media channels. In other words, AdFender will automatically prevent a page from serving requests that are related to advertisements.
AdFender is compatible with almost all types of web browsers such as Chrome, Safari, Firefox, Internet Explorer, Opera, Epic, Chromium, K-Meleon, Waterfox, Yandex, Maxthon, etc.
Pros
Blocks almost all types of ads – ex. pop up ads, rich media ads, video ads, contextual ads, banners, leaderboard ads, in-app ads and a whole lot more.
Uses the same EasyList block list as AdBlock Plus, so ad-blocking accuracy is similar. You also have the ability to select a different block list, if you wish, and the ability to add custom rules.
Can also filter content and block ads in instant messengers and P2P applications
Supports almost all kinds of web browsers such as Internet Explorer (including the latest v11), Firefox, Google Chrome, Apple Safari, Opera, AOL Browser, Avant Browser, Chromium, Comodo Dragon, Epic, Flock, Ice Dragon, K-Meleon, Lunascape, Maxthon, Pale Moon, QtWeb Internet Browser, RockMelt, SRWare Iron, Waterfox and Yandex
Run as a standalone program – not browser dependent (you do not need to install a separate plug-in, add-on, or extension for any browser)
Shows and tracks the total number of ads that were blocked during and all throughout your web browsing sessions
Features other tools that you can use to protect your online privacy – ex. remove unwanted cookies, delete browsing history
Non-obtrusive, easy to use
Runs silently in the system tray area (system notification area)
Cons
Blocks almost all ads but, just like other ad-blocking software, it may miss an ad or two every now and then
I would like to know more about the privacy policy of AdFender, but can't really find anything on its website
There is no easy way to disable AdFender for specific websites, such as for websites you want to support or for websites in which you notice AdFender is breaking functionality
Discussion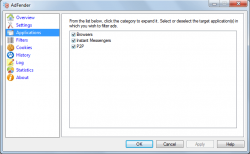 AdFender works as advertised. It is a standalone software so its compatibility isn't limited to a specific type of web browser. Moreover, this software can block almost all types of flashy and obtrusive ads especially those that randomly pops up every time you get to load a certain website or blog. This software can even block those ads that usually appear on browser-based games and videos. It also helps protect your online privacy since majority of the ads that are being served online are designed to collect your personal information and track your browsing behavior.
After installing this software, it will automatically run as a background process while keeping its icon in the system notification area. You're then free to customize its settings according to your preferences. To do this, simply click the software's icon in the system tray area to open its main console. You will then see an overview of the total number of ads that it has successfully blocked and you can also monitor the status of your ad blocker as to whether its content filtering feature is enabled or not. If you wish to disable its filtering feature, just click the "disable filtering" button.
What I like about this software is that it can easily block those ads that usually appear on browser-based games, web-based apps and YouTube videos. Other than this, this software also features some other tools that helps protect your online privacy. You can this software to remove unwanted cookies and it also blocks those ads that are usually integrated with your P2P client and internet messenger. As of now, AdFender supports the following internet messengers and P2P applications – AOL Instant Messenger, ICQ, Paltalk Messenger, Trillian, Windows Live Messenger, Yahoo Messenger, Bearshare, BitComet, iMesh and Pando.
All in all, I can say that AdFender does a very good job in blocking ads. It is also very easy to use and it doesn't cause your web browser to lag or crash. It is also compatible with majority of today's web browsers plus it silently runs in the background. It is also very easy to enable or disable. Nonetheless, there's still no guarantee that this software can completely wipe out the ads from certain websites or blogs. Some blogs directly host their ads without using any codes or scripts. This is already beyond the scope of AdFender. It is also important to note that this tool eventually replaces the ads with solid background colors.
Conclusion and Download Link
AdFender offers a great solution for users who wish to make the most out of their web browsing experience without being constantly bothered by ads — especially those annoying flashing ads. The best part about AdFender is that it works with almost any browser you can think of, something which can't be said for other ad-blockers like AdBlock or AdBlock Plus. However, when it comes down to it, AdFender does the same thing as AdBlock Plus or similar ad-blockers: it blocks ads. So my recommendation is the following. If you are already using an ad-blocker and are happy with it, there really is not major reason to switch. However, if you don't have an ad-blocker already or aren't happy with the one you are using, then AdFender deserves a download. Just be sure to whitelist dotTech and our sister site SharewareOnSale… once you figure out how to whitelist, that is, because setting AdFender to ignore specific websites is quite a task. :-)
Price: Free
Version reviewed: 1.80
Supported OS: Windows 8.1, 8, 7, Vista, and XP
Download size: 2.59MB
VirusTotal malware scan results: 0/49
Is it portable? No
Related Posts