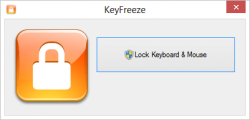 With the popularity of on-line social networking and media basically enamouring and planting itself into modern global society, it has created its own little world wide subculture. With any subculture, you find new colloquialisms and slang. My favourite internet slang term among many is trolling.
When boredom strikes, I sometimes find myself hunting for troll fodder to ease the hours by. Why am I discussing trolling, what does it have to do with reviewing Software and have I actually found a piece of Software that will assist in effective trolling? My answer is 'Aaaah, sort of'. You can be the judge of that. What I have found though is an application that can increase your file security if you have small children. KeyFreeze is a simple child lock tool for your personal computer.
What Is It and What Does It Do
Main Functionality
KeyFreeze by JitBit Software allows you to lock your keyboard and mouse without locking your operating system or screen. Lets say you're leaving for the bathroom and you want to monitor the progress of an installation but you have kids who may feel like playing around with your keyboard and mouse while you're not around. They may end up causing all sorts of chaos like deleting some files or God forbid, stopping the installation you were monitoring.
Pros
Simple to use
Lightweight and small
Effective
Cons
Lock/unlock hotkeys are Ctrl + Alt + Del… which everyone knows to press if something goes wrong with your computing, meaning unlocking keyboard/mouse is a breeze even if you don't know about this program
Does not minimize to the system tray
System restrictions and antiviruses could keep it from working effectively, which isn't a problem with this program pre se but rather is an issue with the sort of functionality it offers
Doesn't have a conventional setup and installation
Discussion
If you download the installation file from a website, you wont get the actual installation file. You get a setup file that links to the default windows internet download manager. It will ask you if you're sure you want to install this software because it seems unsafe. After its done downloading and installing, no notifications are displayed declaring that the software has been successfully installed. No pop ups or anything however, I do think it initially tried to launch the application but Windows may have blocked it. Another thing I found annoying about the installation is that it didn't ask if the user wants to create any short cuts. I had to investigate if the application was installed and where. From there I had to run the application as an administrator. Sometimes Windows 8's smart screen would block the application from running but once I got around this, it was all fun and games. I use the Windows Defender Anti Virus so there is no telling how an average anti virus would react to it.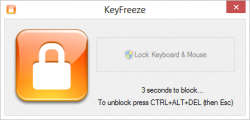 Its a very minimalistic application with a single goal in my mind. The user interface has no menu bar, no status bar or no real panelling and separation. It's a one button application with a logo and a close button. The application cannot be in-cursively minimized. Once you click on the lock keyboard and mouse button, the application gives you five seconds to prepare before it leaves your keyboard and mouse unresponsive. It feels a little like cutting the brakes. After this 5 second period, the user interface will fade away into your start bar until you press the 'CTRL + ALT +DEL'  and then 'ESC' key(s). This will put your keyboard and mouse back in work mode.
I have found that it uses a different service or executable to actually do the keyboard and mouse freezing and every time you click on the freeze button, it will run that executable with administrative rights. So even if you manage to close the user interface after you've clicked on the button, you will find that it still blocks the mouse and keyboard from working. This also means that there is no cancellation option, once the application starts the countdown process.
Conclusion and Download Link
There you have it, short and sweet with a little trolling in between. Speaking of trolling, I think that's what I'll be using this application for mostly- a little real world trolling because I'm not entirely sure what else it is useful for, unless you have little kids whom you want to allow to watch something but don't want them pressing keys. It is too bad that the stop-freeze keys are Ctrl, Alt, and Delete because everybody and their mothers know that those are the universal SOS keys and you unfortunately cannot change this fact.
Personally, I'm not too impressed with KeyFreeze; there are many other applications out there that do what this piece of software does and some are even portable. Feel free to suggest your favourites in the comment section if you have any or do a little trolling of your own.
Price: Free
Version reviewed: 1.0.1.0
Supported OS: Windows XP/Vista/7/8

Download size: 498 KB +
VirusTotal malware scan results: 0/48
Is it portable? No
Related Posts