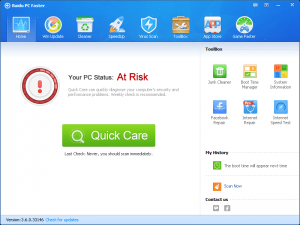 Not everything made in China is crap. Baidu, known prominently as the leading Chinese search engine (it even tops Google there) can attest to that statement. As Baidu now stands at the cusp of becoming a web-service and software conglomerate catering to multiple platforms from desktop to mobile; they fall under the danger of greater scrutiny. Today I'll be casting some of that scrutiny on their PC optimization toolbox, Baidu PC Faster.
WHAT IS IT AND WHAT DOES IT DO
 Main Functionality
The name of the program is a little misleading and understated. This is not a tool that seems to have been built primarily and intentionally for the purpose of just making your PC faster. I've seen and met tools that claim to make your PC faster and they don't offer the value that Baidu PC Faster offers. What Baidu's PC Faster does is combine a not-so-short list of features and tools to streamline, manage and optimize your PC.
Pros
Allows you to manage your Windows updates
Comes with an extensive cleaner that allows you to clean out junk files, registry files and privacy files occupying unnecessary space
Contains a speed up tool that helps you manage your start-up items and decrease boot up and loading time.
Comes with its own built in Virus Scanner
Comes with a toolbox packed with extra PC optimization tools
Comes with an app store application
It comes with its own tool for Game optimization
Comes with a system tray USB drive manager
Sleek and aesthetically pleasing design, from its setup to its user interface
Easy to use
Quick and easy installation
Cons
Some of the tools are actually just a good looking front ends for tools that are already there (i.e. a way to bloat the tools count)
Some of the features are just cleverly disguised bloatware
No comprehensive backup tool
The main user interface theme and skin is uncustomizable
Discussion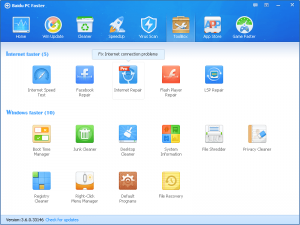 This application comes packed with more action than The Expandables, without the steroids, bad acting or leathery skin. Each component honestly deserves its own review. It utilizes a sleek and sexy design from the installation to the user interface which all conforms to Baidu's theme of always paying great attention to detail. The main applications user interface is reminiscent of Windows XP blue and green color scheme. Unfortunately if you didn't like XP's default color schemes, you cant change the theme on or background on PC Fast. Its a small gripe. Most of us aren't worried about aesthetics anyway. As long as the application works right(?); and yes the application seems to work really well.
PC Faster can be split up into 8 main components which all have their separate functional categories and purposes.  The Home screen allows you to access information on your PC's status and it comes equipped with a giant green quick care button, which is all you really need as it combines all the efforts of the program to solve your PC's problems like Captain Planet. The Home screen also contains shortcuts and quick launch widgets to the toolbox, history and scan.
Win Update is a comprehensive Windows Update screen that allows you to manage your most important Windows patches and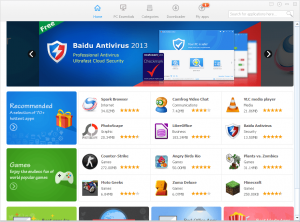 fixes. Cleaner helps you manage junk files and free up space. Speed up allows you to increase the speed of start ups by managing your PC's start up applications and displaying stats that illustrate which applications take most of your boot time up. Virus Scan is a built in malware scanner that provides the simplest tools in keeping your PC safe, although I do suspect that it may be built over your PC's default virus scanner or a version of the Windows Defender antivirus.  Toolbox provides the user with an extensive array of PC management applications. It's like a desktop of its own. It has a file shredders, an application that claims to fix Facebook problems (like logging in issues), registry cleaner ,file recovery etc. All very nice and useful applications categorised by whether they increase the efficiency of your Internet experience or your Windows experience.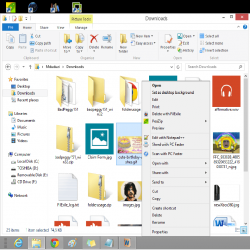 The program also comes with an appstore where you can download and purchase applications ranging from games to office applications. You can manage downloads and split applications into all types and sorts of lists. What I found most impressive is that you could search for and install updates of applications that have long existed on your PC. In all honesty though, this is the first blatant example of bloatware on the application. The installation sets the application store up as a separate application. It's not a fixed component on PC Faster's user interface but a shortcut. I don't mind either. Most of the features on Baidu's PC Faster are cleverly disguised adware but instead of cursing them, you'll be thanking them because of the quality of the applications presented here. Last but not least, you get Game Faster which is also more of an application on its own than a component on the main user interface. What it does is allow you to minimize or halt processes so that you may lower the usage of system resources which in turn allows those resources to be allocated to a Game or high resource eating applications. It comes with a speed up button that halts processes; which then changes to a restore button which returns those processes to normal. It also comes with a process management tool.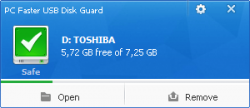 The application is minimizable to the system tray where it flashes messages and notifications from time to time like news casts on the integral needs of your PC. From the system tray icon, you can also access the applications background settings, open the main application screen, send feedback and access the About screen. Another fun item that the app comes with is a USB disk guard that gives you extensive pen drive and hard-drive options that Windows never thought of including. It also lives in your system tray notification area as a tiny icon. The application comes with two context menu items – shred with PC Faster and scan with PC faster.
CONCLUSION AND DOWNLOAD LINK
Baidu PC Faster comes with more thinga-ma-bobs than Inspector Gadget. This is not a PC optimization tool. It's an app suite… one that seems to be too good to be true — especially at its price of $0. However, in a market over saturated with PC optimization tools, I'm pretty sure that every user has at least two installed. Does Baidu PC Faster really offer you something unique over the rest? Meh, not really. Still, it is worth a shot if you are into such types of programs. Why not make Baidu PC Faster your third? Get yourself a ménage a trois of efficiency and, as always, feel free to provide feedback in the comments below.
Price: Free
Version reviewed:  3.6.0.33146
Supported OS: Windows 7/8/8.1

Download size: 9.3 MB + 
VirusTotal malware scan results: 0 / 47
Is it portable? No 
Related Posts