I used to scratch my head, pondering on why acquiring a Windows license key was so expensive. It has to be one of the most pocket-emptying pieces of software, along with Microsoft Office. There was a time when I thought that you had to be running a small business or you had to be a millionaire to be an owner of legit Microsoft license keys. When you delve into Windows and all the features it offers from the sophisticated folder explorer to the free updates and patches, you begin to understand. Writing an operating system using C as your basis, is not an easy task and it took a group of very talented developers to craft it into what it is. All the issues and gripes we have with Windows 8 can be forgiven, once we take all of this into account and that's why I own three or more separate license keys, all paid for with my hard earned money.
With all the tools that Windows provides us with, sometimes they may not be enough. Time and time again, I find myself praising Windows 8's new task manager for its extensiveness and its new found user friendliness. I still feel that it's not enough to monitor my system efficiently. Can Moo0 System Monitor fill that gap in? Read on and find out?
WHAT IS IT AND WHAT DOES IT DO
Main Functionality
Moo0 System Monitor is an expansive PC monitoring tool that comes with a long list of stats and a widely customizable user interface that offers the user an array of display options to suit his or her needs.
Pros
Comes with a long list of stats and displayable fields that can be sorted according to the user's tastes.
Has a widely customizable user interface
Supports a wide variety of languages
Controllable refresh rate and frequency
System tray minimizable
Lightweight
Cons
Its functions are not intuitively accessible at first
It's not traditionally designed and this can be somewhat confusing until you get used to it
It does not come with extensive help resources which does not help quail the confusion
No feature that allows logging or archiving of stats and details.
Discussion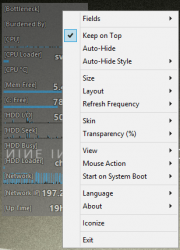 I hate making assumptions because I find myself second guessing and tip toeing. With that being said, when I opened Moo0's system monitor up for the first time after it's install, I found myself making quite a few assumptions. I assumed that it was one of those self-unaware applications that was designed to suit a primary need and nothing else, like a wooden hilted hammer. After all, it doesn't even come with a close button. It's as ugly as sin too and it displays only a few fields with the bare minimum amount of information attached to each statistic. I was already bored with it and at first, I decided that I wasn't going to review it. After making these assumptions, I found myself a little red faced when I discovered the right click context menu on both the system tray icon and the user interface.
I cannot be entirely blamed for my indiscretions and misjudgements here because the program does not initially fully avail itself. Once I discovered the right click menu, it was like I was opened up to a whole new world. The application will come with a default set of fields that also depend on what your PC is packing. From the right click menu, you can choose to add more to the user interface. I'm too lazy to count here but there are a lot of displayable fields and they are directly proportional in number to the robustness of your computer's hardware. Whether you choose to display none or create mass chaos by displaying everything, it's really up to you. You can even sort and customize this list. I will say that if you choose to display every stat, the application will not perform so well; it will run slow and the user interface will start to lose its visual integrity. If you've changed the size of the window and add a new field, the window will revert to its default size. I found this a little annoying.

The window can be stretched and shrunk but the number of fields being displayed also creates a limit on this extensibility. Another annoyance that I found was that it launches the entire window at start up like a surprise party and I kept forgetting that it doesn't have a close button. You can choose to launch the application on start-up but unfortunately, you cannot choose to change the windows behaviour (on start-up).
Other customizable inflections to the aesthetics of the application include the ability to change how the auto hide feature behaves. You can also make changes to the general layout so the application doesn't always have to look similar to a dinner receipt. Did I mention the large variety of skins and languages to choose from? Nelson Mandela (RIP) dubbed South Africa as a rainbow nation with all it's diversity in language and culture. You can almost say that this software is comparable to that sentiment, in it's diverse range of customizable aesthetics and language options.
CONCLUSION AND DOWNLOAD LINK
I feel ambivalent about this. I enjoyed playing around with the user interface more than I payed attention to the stats and details that it was made to display. Which means that there's a great novelty behind it. I tend to get bored with novelty applications after a while. As for you, a normal person who isn't as weird as me? Moo0 System Monitor is a good tool. You can find a long list of alternative system monitoring programs but if you've never tried one out, I believe that Moo0 System Monitor deserves a home on your desktop.  If you can, make a donation to the developer as well because s/he offers a great amount of useful freeware software.
As for Ashraf's personal choice, I believe he prefers Rainmeter over everything else. There is also BgInfo. Pick whichever one you want.
Price: Free
Version reviewed:1.76
Supported OS: Windows XP/Vista/7/8

Download size: 3.86
VirusTotal malware scan results:  0/49
Is it portable? Yes
Related Posts