Each open Web page tab hogs a little RAM. As such, to save RAM you have to reduce the number of open tabs. With the Google Chrome OneTab extension you can open lots of page tabs, and save up to 95% RAM. It's an extension which converts all your open tabs into a single list, and so those open tabs are merged into a single tab.
Check out the OneTab extension page here. Click on the + Free option to add it to the Chrome browser. The OneTab icon (circled red in the shot below) should then appear at the top right of the Chrome window.
Now open at least three page tabs. Then click on the OneTab icon. All the page tabs are then closed, and grouped into OneTab's tab page below. Select one of the page links to reopen any of the tabs.  Click the Restore All option to reopen all the tab pages.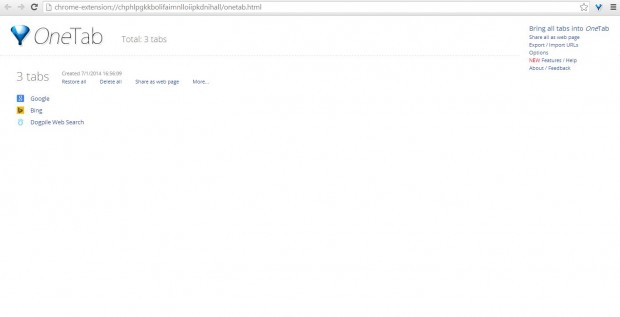 Or you can right-click any Web page to open the OneTab submenu in the shot below.  Select the OneTab option, and then click on Send All Tabs to OneTab. The tabs are then grouped much the same.
The extension also has a few further options. Click Options from the OneTab page to open the page below. If you select the option Allow Pinned Tabs to be sent to OneTab, pinned tabs are also included in the OneTab list. Another option to note is that of Silently reject duplicates. Unless that option is selected, OneTab will include duplicate site tabs in the lists.
Titles can be added for each of the OneTab groups. Click on the More… option on the OneTab page. That should open further additional options such as Name this tab group. Select that option, and input alternative title.
The extension also has a couple of shortcut keys. Press Alt + Shift + 1 to display the OneTab page. To send the current tabs to OneTab, press Alt + Shift + 2.
OneTab is an ideal extension for saving a little RAM. With it you can still open multiple pages, but from just one tab!
Related Posts