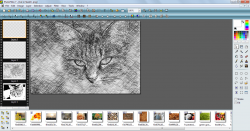 If you have a knack for photo and image editing, then you'll definitely need a reliable image editing software. You cannot just settle for something with very limited tools and options. It would also be great if you can find a program that offers a wide variety of photo filters. It's just that majority of today's top-notch photo editing programs can be very costly and aren't really suitable for beginners. It's a good thing that there are a bunch of good alternatives out there that are suitable for those who don't want to spend some cash. Speaking of which, you might want to check out this free image retouching program for Windows called PhotoFiltre.
What Is It and What Does It Do
Main Functionality
PhotoFiltre is a free image retouching program for Windows. With the help of this program, you can edit your images and apply all sorts of filters to your photos. Compared to other image editing programs, this software features a simple and intuitive user interface so it won't take long before you can get fully accustomed to its tools and options. Furthermore, PhotoFiltre is portable so you can easily store it inside your USB flash drive. You don't need to install it on your computer. Just keep in mind that this software is free for private use only. If you want to use it for commercial purposes, then you'll need to purchase its licensed version.
Pros
Neat, responsive and easy to use
Features a wide range of filters – it has filters for adjusting brightness, contrast, hue and saturation, gamma correction, etc. You can also make use of its artistic filters (ex. posterize, grayscale, sepia, comics strip, colored pencil, India ink, Sprayed stroke, watercolor, palette knife and a whole lot more…)
Features two types of vectorial selections – the first type is for automatic shapes while the second type is for lasso and polygon
Has a full suite of tools for image editing – paintbrush, advanced paintbrush, eraser, color palette, pipette tool, magic wand, spray, fill, clone stamp, blur, smudge, rotate, crop, transform, gradient overlay, patterns, zoom, add text and a whole lot more
Supports a wide range of image formats such as BMP, GIF, JPEG, PNG, RLE, Targa, TIFF and .pfi – the latter is the native format for PhotoFiltre
Supports batch processing, transparency and layers
Has a built-in image explorer, supports hotkeys, can view images in full screen and slideshow
Portable, no installation required
Cons
Slow processing time for high-res images
Limited sets of standard paint brushes
Lacks the option for grouping layers
Discussion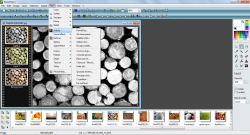 PhotoFiltre has its good points and bad points. Anyways, you cannot really expect it to be as good as Photoshop but it's great for beginners and intermediate users. What's great about this software is that it features a simple and intuitive interface. Its tools are easy to recognize plus it is very responsive and stable. Aside from this, this software is also portable. Just store it inside your USB flash drive and load it on any computer.
To use this software, the first thing that you need to do is to download its ZIP package (see link below). After which, you need to extract its application folder. For a quicker access, you can save its application folder to your desktop. The name of the extracted folder will be "PhotoFiltre7-en". Once done, just open its folder and click on its executable file (the file with the .exe extension) to launch the application. You'll then see an empty workspace. After that, it's up to you if you want to create a new image from scratch or you can use the software's built-in image explorer to load a photo. Since PhotoFiltre is made up of a lot of tools and options, it could take a while before you get fully accustomed to its UI.
What I like about PhotoFiltre is that it offers a wide selection of filters. It also flaunts its standard adjustment filters so you can easily adjust your photo's brightness, contrast, hue and saturation, etc. It also highlights its artistic filters. You can choose comics strip, colored pencil, rough pastels, watercolor, palette knife and a whole lot more. Apart from this, this image editing program also supports transparency and layers. It also supports a wide range of image formats such as BMP, GIF, JPEG, PNG, RLE, Targa and TIFF. You can also save your image in its native .pfi format.
While majority of this software's features are highly commendable, I did notice that its takes time for it to process the filters and effects applied to high-res photos. So do expect that you'll have to wait a lot especially if you're working on very large files. It's also a bit of a downer that this software has a limited set of standard paint brushes and you cannot even adjust the diameter of the brush. This software also lacks the option for grouping layers.
Conclusion and Download Link
PhotoFiltre is ideal for the traveling techie — users who wish to have a reliable image editing tool that they can use on any computer. Its portability is one of its best features of the program plus it packs a wide selection of photo filters and has all the features one would want in a mid-range image editor. I don't like the fact that it takes a lot of time for it to apply filters on high-res images, but that isn't a deal-breaker in my opinion. Overall, PhotoFiltre is definitely worth checking out — especially for users who don't want to spend money on those costly image editing programs.
Also be sure to check out dotTech's review of best free image editors for Windows.
Price: Free for noncommercial use, $43.25 for commercial use

Version reviewed: 7.1.2
Supported OS: Windows XP, Vista, 7 and 8
Download size: 5.3MB
VirusTotal malware scan results: 0/46
Is it portable? Yes
[Thanks everyone that suggested PhotoFiltre!]
Related Posts