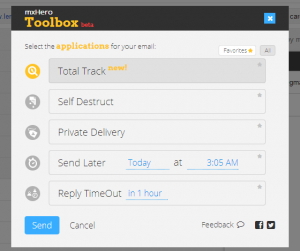 As a free email service, Gmail appears to be doing a very good job. However, like any other email service providers, it cannot provide you with all the features that you wish you could have. Fortunately, there are a handful of ways to improve your Gmail experience. Like, for example, you can install this free Chrome extension called mxHero Toolbox.
What is it and what does it do
Main Functionality
What is mxHero Toolbox? Well, it is basically a tool that is intended to supercharge your email service with a full suite of useful email apps. In general, this tool supports a wide variety of email services and platforms such as Gmail, MS Exchange, Zimbra and even Google Apps. However, in this review, I will be focusing on its free version (for @gmail.com accounts) which apparently requires the installation of its official Chrome browser extension.
As I've already mentioned, mxHero Toolbox will provide you with a full suite of useful email apps. These apps are as follows:
Reply Timeout – this app is intended to notify you every time you don't get a reply from your important email recipients
Send Later – you can use this app to schedule the time for your emails to be delivered
Total Track – this app is intended to track the emails that you've sent as well as those that were successfully accessed and read by your recipients
Private Delivery – You can use this app to send an email to multiple recipients but your email will appear like it's only been addressed to a single recipient
Self-Destruct – You can use this app to send emails that would self-destruct five minutes after it has been read or viewed by your recipient
Pros
Easy to use, easy to install and uninstall
You can choose from its list of available email apps – Self-Destruct, Private Delivery, Total Track, Send Later and Reply Timeout
You can select and add any of the apps to your "Favorites"
Provides a quick hands-on tutorial for new users
Automatically integrates with your Gmail account/s
Also supports other platforms other than Gmail (MS Exchange, Google Apps, Zimbra, etc.)
Cons
The free for Gmail version of mxHero Toolbox isn't compatible with mobile devices so if you want to use it, you need to open your Gmail account using your Chrome web browser – the same goes for other web browsers since this tool won't work without its Chrome browser extension
For some reason, the self-destruct feature doesn't work properly. The messages that were enclosed in the self-destruct email weren't deleted as stated
Discussion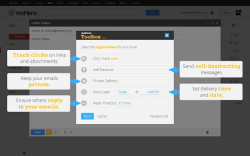 What's great about mxHero Toolbox is that it is not only limited to Gmail. You can use it on other email platforms such as Zimbra and MS Exchange. Nonetheless, its Chrome extension also does a very good job plus it's so easy to use so you won't have a difficult time adjusting to its controls and options.
So right after you install its extension to your Chrome browser, mxHero Toolbox will automatically integrate itself to your Gmail account. It doesn't even matter if you are using multiple Gmail accounts. This tool will work on all of your Gmail accounts for as long as you have the extension installed on your Chrome browser.
When using this tool for the first time, you will be guided by its hands-on tutorial. Speaking of which, all you need to do is to click the "Compose" new email button and just compose your email like you usually do but instead of clicking the "Send" button, you must click the button for mxHero. It's a yellow button with the mxHero logo.
So once you click the yellow button, a new pop-up window will appear and you will be prompted to choose from its list of available email apps. These are the email apps for Self-Destruct, Private Delivery, Total Track, Send Later and Reply Timeout. You can just choose one app or if you want, you can choose all. Once you're done, click the "Send" button and that's it. If you have enabled the Total Track app, then you will be notified as soon as your recipient gets to read or view your email. You will also get notified for every URL clicks and attachment downloads.
All in all, mxHero Toolbox does a very good job and I like the fact that it is very easy to use. However, I did notice that when it comes to sending self-destructing messages, the messages will still continue to appear despite of the said self-destruct time duration. So even if five minutes have already passed, you will still be able to read the email plus it won't disappear from your inbox. It is also important to note that the Chrome extension for this tool only works on Gmail accounts but it won't work if you opt to access your Gmail using a mobile device or if you opt to open it using a different web browser.
Conclusion and download link
Undoubtedly, mxHero Toolbox is a great option for users who wish to do more than just sending a plain email. It offers a full suite of powerful and useful email apps that will definitely help boost your Gmail experience. It may have a couple of downsides but it does what it is intended to do. It's going to be very useful especially if you're frequently using Gmail to communicate with your important clients and customers. So go ahead and give it a try.
Price: Free

Version reviewed: 2.5.1

Requires: Google Chrome on Windows XP, Vista, 7, Linux or Mac OS X

mxHero Toolbox on Chrome Web Store
Related Posts