We've seen quite a lot of jailbreak tweaks in the past few weeks however we never saw a tweak the enabled users to launch apps directly from the notification center, a feature that most of us crave for and wished Apple implemented it into iOS 7 . However this is the reason to jailbreak your device.
Apptray is a recently released jailbreak tweak that allows you to add your favorite apps to notification center and launch it directly from there . The tweak adds a fourth bar to the notification center named 'Apptray' next to 'All', 'Missed' & 'Today' . From here,  you can view the app you added and launch it . This tweak comes in real handy when you have lots of apps cluttered on your homescreen . Instead of pressing the home button or switching pages to locate the app , you can simply access the notification center and open the app directly . One thing that I find quite useful is that you can launch applications when you're within another application .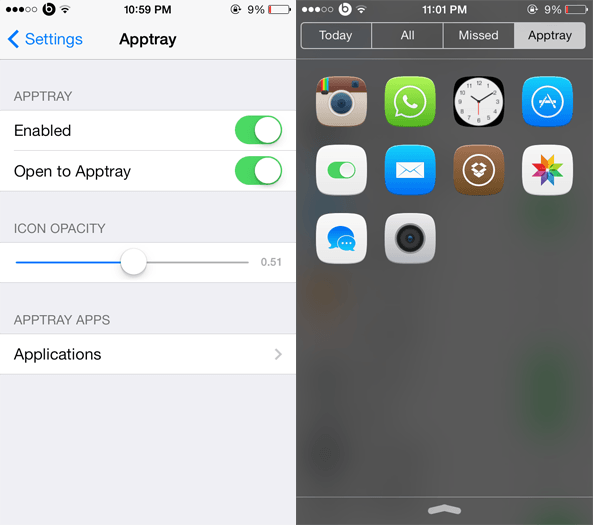 Apptray allows you to add as many apps as you want to the notification center . Aside from adding apps to notification center , you can set the icon opacity and enable or disable it completely from setting . Regarding security , apps can't be opened from the lockscreen notification center . Tapping on an application will do nothing and it won't be opened . However what I'd like to see in the next update is the ability to move around the apps in notification center just like how you can move them on the homescreen .
Apptray is developed by Joshua Lee Tucker and is compatible with all iPhone, iPad and iPod Touch running iOS 7. You can download it from BigBoss repo for $1.49 .
Related Posts