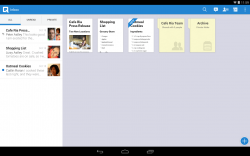 One of the main advantages of using a cross-platform word processor is that you can instantly create, edit and share your documents online. Of course, there are a lot of reliable applications that you can use to manage your documents. Like, for example, Quickoffice and Google Drive. Now, what if you just want a simple word processor that lets you create documents and chat with your contacts at the same time? In that case, you can try Quip – an easy-to-use document editor.
What Is It and What Does It Do
Main Functionality
What is Quip? Well, it is basically a cross-platform collaborative word processor and messaging system. Yes, that's right. You can use Quip to create and edit your documents while chatting with your contacts at the same time. Apparently, its messaging system mainly functions as a collaborative tool so you and your team can communicate while you work on the same document or project. It is also important to note that Quip is a cross-platform document editor so you can easily access it using your phone, tablet or even your web browser. As for this review, I will be reviewing its Android version.
Pros
Easy to use
Neat and responsive user interface
Built-in document editor and messaging system – both of these components are combined together to form a single conversation thread
You can create lists instead of documents
You can sort out and place your documents in different folders – you can also edit your folder's name and color
No download or additional software installation needed
You can instantly share your documents to your contacts via Bluetooth or e-mail
You will get notified as soon as someone makes some changes to your edited document/s
You can import files from Evernote, Dropbox or Google Drive
Works offline (mobile version only)
You can download your documents as PDF
Cons
You are not allowed to download a document to your local storage or hard drive in other formats aside from PDF. Therefore, you cannot download a document as .doc or .txt.
The document editor lacks some important options for text and paragraph formatting. Like, for example, there are no options for setting the paragraph alignment. There's also no option for changing the font size and font style
Discussion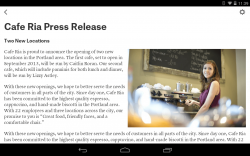 Unlike Quickoffice or Google Drive, Quip allows you to create and edit documents in a slightly different manner. In this document editor, both your document as well as your messages will be combined in such a way that they will appear as a threaded conversation. As a matter of fact, it's slightly similar to the way that you send text messages but what's different is that in just a single swipe; you can immediately open and edit your document. Just keep in mind that this document editor will require you to log-in using your Google account.
Functionality wise, Quip is very easy to use. If you're on Android, all you need to do is to download and install its official app. After which, you will be prompted to log in using your Google account and thereafter, you can browse its list of available document samples.
The user interface of this cloud-based document editor also looks very neat and well-organized. On its left panel, you will see all of your available "threads" or conversations while on its right panel; you will see a list of all your active documents and folders. If you want to create a new folder, just press the "Create Folder" icon which is located on the top-right portion (near the Settings). You'll then be prompted to enter your new folder's name as well as its color. If you want to create a new document, just press the big plus button on the lower-right corner of your document editor. After which, a new blank document will appear and you can choose whether you want to create a simple text document or a list.
What I like most about this document editor is that it allows collaborative editing. This means that you can allow others to edit your document plus you can even monitor the changes that they've made to your document. You can even talk to them in real-time.
All in all, I find this app very easy to use and I like the way how it integrates its collaborative document editing into its threaded conversations. It's just a bit of a downer that it doesn't allow users to download the document as .doc or .txt. You can only download the document as PDF. Aside from this, the document editor also lacks some very important formatting options.
Conclusion and Download Link
I like Quip mainly because it's convenient to use plus it's also available on other platforms. It also serves as a great option for people who are constantly working on collaborative projects. Nonetheless, it's still far from perfect. It still lacks in certain aspects but it certainly does what it is intended to do. So if you still haven't tried it yet, go ahead and check it out.
Price: Free
Version reviewed: 1.0.2
Requires: Android 4.0.3 and up
Download size: Varies with device
Related Posts