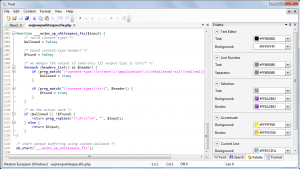 Notepad is a good text editor. It's just that it's too simple. It obviously lacks a lot of essential features so you'll eventually end up looking for a better replacement. Of course, a quick web search can easily give you a couple of interesting suggestions. There's Notepad++, EditPad Lite, TED Notepad, etc. If you still haven't found the one that would best suit your taste, you can check out this free text editor for Windows called Poet.
What Is It and What Does It Do
Main Functionality
Poet defines itself as a "nice text editor for Windows with a friendly interface". Of course, that is pretty much self-explanatory – it's a text editor that you can use to write and edit all sorts of text files. It also supports a wide range of file formats such as .htm, .html, .cs, .csv, .shtml, .css, .xml, .php and .txt. What makes Poet different from Notepad is that it packs a whole bunch of tools and options. It also supports multiple file handling so you can open two or more documents in tabs. Apart from this, this free text editor sports a slightly different user interface. You can even change the style and format of its theme, windows and text area.
Pros
Responsive, neat and stable UI, easy to use
Supports multiple file handling – each file can be viewed in a new tab, you can also split and view the tabs in various layouts
Features a quick access sidebar for Search, Palette, Font and Format
Supports syntax highlighting for source codes such as C++, CSS, HTML, PHP, SQL, XML, Ruby, etc.
Supports different file formats such as .txt, .htm, .html, .cs, .csv, .shtml, .css, .xml, .php, .patch, .boo, .sql, .ini, .map, .proj, etc.
Features a "Save All" button that you can use to save the changes that you've made in all of your active documents
Supports plugins, also has a built-in spell checker and word complete tool
Supports themes – default, Classic, Aero, Generic, Expression Dark, etc.
Cons
Requires Microsoft .Net Framework 4.0
No Help or User Support section plus there's no English-based user manual
Discussion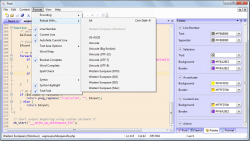 Compared to Notepad, Poet has so much more to offer. It also flaunts a stable and responsive interface that supports tabs. So, basically, you can use it to view and edit multiple files. That's not all. You can also split and view your tabbed documents in different layouts. This is good especially if you are doing side-by-side comparisons or if you simply want to multi-task.
To use Poet, the first thing that you need to do is to extract the application from its self-extracting archive. Once done, you'll need to click the "Poet.exe" file inside the extracted folder and then you wait until the app loads. Just keep in mind that this application will require you to install Microsoft's .Net Framework 4.0. If you already have this component installed on your computer, then there's no need for you to install anything else. Just launch the text editor and you're all set to begin your work.
The user interface of Poet is similar to Notepad but unlike the latter, it can show some of its options thru its sidebar. So aside from its text area, status bar and tool bar, you also get a sidebar that shows the options for search, palette, font and format. This also allows you to customize the appearance of your text editor. You even change the color of its text, text background and line highlighter. It also important to note that this text editor supports syntax highlighting for various source codes so it's great for novice coders and programmers. If you're using a text editor for other purposes such as creating content and data management, then you can definitely make use of its built-in word complete tool and spell checker.
So far, this text editor proves to be very reliable. It is very stable. It doesn't crash plus I like the fact that it supports tabs. I just noticed that it uses a lot of memory plus it doesn't have a built-in Help or User Support section so if ever you experience some difficulties, you can't rely on it to help you solve the problem unless, of course, you decide to contact its developer. It has a manual that you can view online but it won't be of any help to you unless you're able to understand Russian.
Conclusion and Download Link
Poet proves to be a decent alternative for Notepad. Its features are good but it might not suit the taste of those who are looking for a more sophisticated text editor. It is more suitable for those who casually work on cods as well as to those who simply wants to create content and edit some text files. Its Microsoft .Net Framework dependency might also turn you off. Overall, this is good but I don't recommend it.
Rather, I'm a big fan of Notepad++. Notepad++ does everything Poet does, plus more. Check it out.
Price: Free 
Version reviewed: 1.0.5118.25439
Supported OS: Windows XP, Vista, 7 and 8 (Requires Microsoft .Net Framework 4.0)
Download size: 1.56MB
VirusTotal malware scan results: 1/48
Is it portable? No
Related Posts