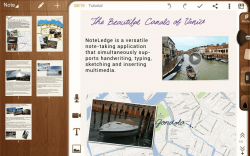 One might not be able to fully let go of his or her habit to always carry a notebook and a pen but given today's modern gadgets, you can always opt to use a note-taking app instead. Speaking of which, there are a lot of free note-taking apps that you can download at the Play Store. As a matter of fact, I've already reviewed some of them but this time, I'm going to review another one and it's called "NoteLedge".
What Is It and What Does It Do
Main Functionality
NoteLedge defines itself as a "versatile note-taking application". Just like other note-taking apps, this app allows you to create notes and memos but it's more advanced since you can insert some audio recordings, videos, typewritten text and images to your notes. Aside from this, NoteLedge also flaunts some handy drawing tools that you can readily use whenever you feel like creating some rough sketches and quick doodles. With this app, you can also create notes with multiple pages so you can use it to create a personal diary, a recipe book and even a travel journal.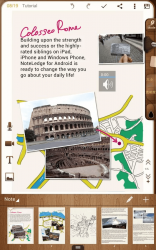 Pros
Neat, attractive and user-friendly UI
Feature-packed – this app supports handwriting, typing, sketching, audio recording, video recording, etc. You can also insert some photos.
Features a wide selection of drawing tools and options – ex. brush style, eraser, brush size, brush opacity, color palette, undo, redo, clear, etc.
You can add multiple pages in a single note
You can create unlimited notes with custom names/titles
File back-up support – you can create a back-up of your notes by uploading them to Dropbox or Google Drive
Can be viewed in both landscape and portrait mode
Built-in sharing tools – you can immediately share your notes to Facebook, Twitter and Weibo
Cons
Needs to add more tools and options
There's no quick search tool plus you cannot sort your notes by date created, date modified or by alphabetical order
You cannot change the app's theme design
Discussion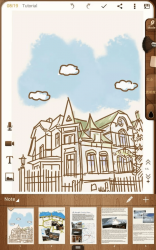 NoteLedge is a very good note-taking app. It's simple to use plus it flaunts a well-designed and attractive UI. Since this app is a bit different from those conventional note and memo apps, I highly suggest that you read its tutorial first before you start creating your notes, sketches and doodles.
To use this app, you basically need to create a new note. You can do this by tapping the plus (+) button in the main navigation menu. After which, you can choose a title for your note and once you're all set, you can switch between drawing mode and non-drawing mode. By choosing drawing mode, you will be able to draw on a blank page using the app's built-in drawing tools. It's also up to you to choose your preferred brush style, brush size and brush color. This mode is great especially if you're creating handwritten notes or if you simply want to create some rough sketches and doodles.
If you want to insert some images, then you can switch to non-drawing mode. In this mode, you will be able to insert or create all sorts of audio and video recordings plus you can also add some typewritten texts and photos. If you want to scroll the page, just use your two fingers to move the entire page up and down. Do keep in mind that notes may contain multiple pages. If you want to add a new page, just tap the scroll down with plus button that is located right below the color palette.
Anyways, NoteLedge is a very responsive app. I like the fact that it flaunts a user-friendly and well-designed interface plus you can also opt to create a back-up of your files by linking the app to your Dropbox or Google Drive account. Nonetheless, there are still a lot of features that's missing from this app. Like, for example, its color palette has limited colors. There's also no fill tool and color picker. Users are also not allowed to insert some pre-defined shapes and cool stickers. When inserting images, you cannot crop or resize the image so you have to use a separate editor just to do this task. I also find it a bit difficult to sort out my notes. It would be nice if there's a quick search tool so that users can easily find their notes by simply typing a keyword.
Conclusion and Download Link
Out of all the note-taking apps that I've tried so far, I prefer NoteLedge the most. Why? It's because it's user-friendly, attractive and very flexible. It has lots of uses so it's not just limited to creating simple notes. It may lack some essential tools and features but it's already good enough as it is. Nonetheless, I would really prefer if it becomes more polished. So go ahead and check it out.
Price: Free, Premium (Ad-Free) – $2.99
Version reviewed: 1.1.10
Requires: Android 3.0 and up
Download size: 9.7MB
Related Posts