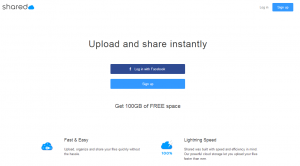 When it comes to cloud storage, one should choose a reliable service that's not only secure but also provides enough storage space. Of course, there are lot of good cloud-based data backup and file storage services out there but you can't really expect all of them to provide you with a good amount of storage space especially if you are just a free subscriber. This could be quite disappointing especially if you're frequently dealing with large files and documents. Well, guess what? You can get up to 100GB of free cloud storage space if you opt to upload and share your files via Shared.
What Is It and What Does It Do
Main Functionality
Shared is basically like any other cloud storage services but what makes it noteworthy to mention is the fact that it can offer up to 100GB of cloud storage space to its free users. So if you're often managing a lot of large files, then this service can definitely help you upload, organize and share your files in a very simple and straightforward manner. All you need to do is to go to its official website (see link below) and then you create a free account using your preferred username, password and email. After which, you can immediately upload the files that you want to your cloud-based Shared dashboard. This service supports drag and drop so you can easily upload your files by simply dragging them from your file explorer.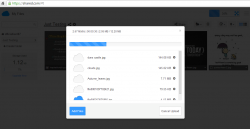 Pros
Simple and easy to use
Neat and responsive UI
Offers up to 100GB of free cloud storage space
You can upload large files (the file size limit is 2GB)
Supports all file types so you can upload music, videos, documents, images, PDFs, spread sheets, APKs and a whole lot more
You can upload files from your phone or mobile device
Secure – uses 256-bit AES and SSL encryption
No installation required
Cons
If ever your account gets inactive for a period of 90 days, the files that you've uploaded to your account will be automatically deleted
Free users are not allowed to acquire the direct link for their files – you are also not allowed to hotlink your file on another blog, forum or website (like Mediafire)

This does not mean you cannot share files. You can share files… but you don't get direct download links in the free version. A direct download link allows you to download without visiting Shared's website. For example, http://shared.com/example/download.exe — if that was a direct download link, you would download it by clicking the link without having to go to a web page. A share link, on the other hand, takes you to a webpage and you must click a button on that page to download. The end result is the same — you get the file you want — but the process differs.

You can only download one file at a time – parallel downloads are not allowed (parallel downloads are only available to Pro users)
Discussion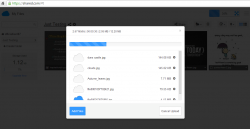 As I've already mentioned, Shared is pretty simple and straightforward. It's hassle-free plus it supports all sorts of files and most importantly, you can get up to 100GB of free storage space without even spending a single dime.
With Shared, there's also no need for you to install any additional software or application to your computer. It's web-based so all you need to go to its official website. Just create a free account and once you're done, you can immediately upload, manage and share your files.
Moreover, this free cloud storage service provides a neat-looking, well-designed and responsive dashboard. It supports drag and drop plus you can upload multiple files at once. It is also very fast compared to other file storage and sharing sites. As a matter of fact, it only took less than a minute for me to upload a file that's no larger than 150MB. Just keep in mind that if you're a free user, then you can only upload files that won't exceed the maximum file size limit of 2GB. Apart from this, I also like the fact that users are allowed to send their files to others via quick share link.
So far, I haven't experienced any problems with this free online storage service. It does what it is intended to do but of course, free users have certain limitations. Like, for example, you are not allowed to acquire your file's direct link plus you're not also allowed to hot link your files on blogs, forums and websites. There's also a 90-day inactivity period so if you fail to log-in to your account within that specific time frame, the files that you've uploaded will expire and will eventually be deleted from your dashboard. Aside from this, you are also not allowed to download multiple files at once. This feature is only available to Pro users.
Conclusion and Download Link
Shared is a very decent cloud-based storage service. I like the fact that it does not limit the storage space to 10GB or even less. And the 100GB free storage it provides is more than enough for personal use. Its free version may have some limitations but if you just want to keep things straight and simple, go ahead and check it out.
Price: Free, Pro – $9.95/month
Version reviewed: N/A
Requires: Works on any web browser (Google Chrome, Firefox, IE, Safari, Opera, etc.) on any desktop operating system (Windows XP, Vista, 7, 8, Mac OS X, Linux, etc.)
Related Posts