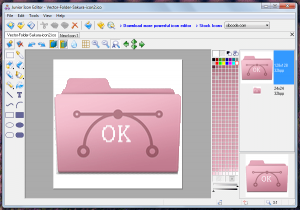 Icons serve as integral components to almost any type of platform, software or application. Without icons, the user interface of every program would look so dull. The same goes for forums and websites. It's just that when it comes to the process of creating and editing icons, one would need a reliable image or icon editing software such as Greenfish, IcoFX and many others. Speaking of which, Junior Icon Editor is another icon editing program that does just that.
What Is It and What Does It Do
Main Functionality
Junior Icon Editor is a free icon editing software for Windows. It is a software developed by SibCode and it basically features a wide range of tools and options for creating and editing icons. With Junior Icon Editor, you can edit icons that are compatible with different platforms such as Windows, Linux, Android, iOS and WP7. You can even create icons for your website, forum or blog. Moreover, this free icon creator and editor currently supports the following file formats – ICO, ICPR, BMP, PNG, XBM and XPM.
Pros
Easy to use
Neat, stable and responsive UI
Lots of tools and options for creating and editing icons – there's the color palette, color picker, eraser, fill, brush, undo, redo, cut, copy, paste, select, airbrush, pencil, insert text, preview, zoom, grid, transparency, etc.
Supports a wide range of icon file formats – ICPR, BMP, PNG, XBM, XPM and ICO
Supports tabbed editing so you're free to edit multiple icons at once
Supports different icon sizes – ex. Custom, 16×16, 24×24, 32×32, 48×48 and 64×64
Configurable settings and user options
Cons
Doesn't support drag and drop
There's no rotate, skew, flip and warp tool
Doesn't support JPG and JPEG file formats – which means that you can't import JPG images to create icons
Ads that are related to the software itself (ex. free stock icon sets) will appear every time you open and close the program
Discussion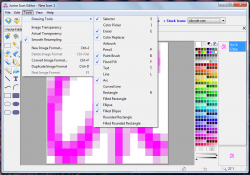 Junior Icon Editor is great for editing existing icons as well as for creating new icons. It is also a very ideal tool for users of all levels. So it doesn't really matter if you do not know much about image editing. With this free icon editor for Windows, you can create almost any kind of icon that you want and you can even save your icons in different sizes and formats. Other than this, Junior Icon Editor also features a user-friendly interface with properly labelled toolbars, panels and buttons. It also has a Help file that you can use as reference or guide.
One of the features that I like about this program is that it supports tabbed editing. So it makes it easier for you to multi-task. You can edit multiple icons at the same time plus you can even create a set of icons according to your preferred sizes. It also features a wide range of editing tools so you will never run out of options just in case you feel like creating your own icon designs.
Functionality wise, I find Junior Icon Editor very responsive and stable. It also has some pre-defined icon formats. Like for example, if you want to create a 16×16 icon, all you need to do is to press CTRL + I to enable its "New Image Format" tool. Thereafter, you just need to choose the icon size that you want. Other than this, this program also supports different file formats so you can easily create icons for different devices and platforms. You can also create lots of favicons for your websites, forums and blogs.
All in all, I can say that I like the features of this free icon editing program. I just can't help but notice that it has this sort of free stock icon ads that would always appear every time you open and close the program. There's also no way for you to opt out from these ads. I also noticed that it does lack some editing tools such as rotate, skew, flip and warp. It also doesn't support drag and drop so you have to manually locate your image and icon files from your file directory. You also cannot use this program to generate icons out of your JPG image files.
Conclusion and Download Link
While there are certain aspects in which the Junior Icon Editor falls short, it still does a very good job when it comes to creating and editing icons. It's a great option for users who simply want a simple yet reliable program for editing icons. I also like the fact that it supports a wide range of icon file formats. So go ahead and feel free to give it a try.
Price: Free (Ad-supported)
Version reviewed: 4.33
Supported OS: Windows XP, Vista, 7, 8 and 8.1
Download size: 5.64MB
VirusTotal malware scan results: 0/51
Is it portable? No
Related Posts