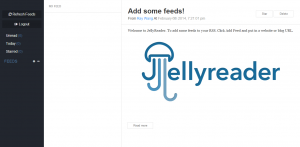 One of the main advantages of using a self-hosted app is that you gain full control over your data. One good example of this is when you are using a free RSS reader or news aggregator such as Feedly or NewsBlur. Since your data is stored on their database, you cannot really do anything if ever they go offline for server maintenance or upgrades. There's also nothing that you can do just in case any of these services decide to go on indefinite hiatus. Apparently, you will be left without a choice but to look for an alternative service but there's still no guarantee that your data will always be safe. Speaking of which, let's find out what makes JellyReader different from other news aggregators and RSS feed readers.
What is it and what does it do
Main Functionality
JellyReader is a simple RSS reader but it's different in a sense that it lets you store all of your feeds and articles on your personal cloud storage. That's right. With JellyReader, you get a simple yet very reliable RSS reader that is directly linked to your Google Drive or Dropbox account. What's also great about this app is that it's very easy to set and configure. Just link the said app to your preferred cloud storage account, verify the authorization request and that's it! You're now ready to add, manage and view all of your RSS feeds.
Pros
Easy to use, easy to configure
Neat and simple user interface
No download or additional software installation required
The data is stored on your personal cloud storage (via Google Drive or Dropbox) so it will never be taken down or wiped away
Compatible with almost any type of web browser – also has a separate extension for the Chrome web browser
Cons
Needs to add more features and options for better user experience
You cannot browse for existing website or blog feeds – all of your feeds must be manually encoded
No auto-refresh function plus you cannot sort out your feeds in different groups or categories
No built-in sharing tools
Discussion
You might be wondering why one should opt for a self-hosted app or RSS reader when there are a lot of free services out there with better features and content. One good reason for this is that you gain full control over your data so there's no need for you to worry if ever some certain news feed service decides to discontinue its operation.
Just like other RSS readers, JellyReader can provide you with the most essential tools for keeping yourself up-to-date with the latest news and current events. It is a simple and straightforward tool that does not flaunt a lot of unnecessary elements. Nevertheless, it does what it is intended to do and most importantly, you can link it directly to your personal cloud storage.
To be more exact, JellyReader does not use its own server to store and manage your data. Instead, it uses your personal cloud storage to store all of your news feeds and articles.
To use this app, you simply need to go to its website and then you login using your Dropbox or Google Drive account. Thereafter, you follow the necessary steps to confirm or verify the app and once you're done, you will be immediately taken to your JellyReader dashboard. This is where you can add, view and manage all of your RSS feeds. Just keep in mind that this app won't automatically generate some feeds for you to select and follow. You need to manually add the feeds. There's also no option that will allow you to import your feeds from other news aggregators. Other than this, this app has no built-in sharing tools but you can mark or star your feeds to save them for later. Do take note that this app will delete all the feeds a day after they've been read.
All in all, I can say that I like the simplicity of this app. I also like the fact that it uses your Dropbox or Google Drive account to store all of your news feeds and articles. It's just that it may appear too plain and simple for users who wish to do more than just read their news feeds and articles. It could have been much better if it has more useful options that would make it more user-friendly and efficient.
Conclusion and download link
JellyReader may not able to please everyone with its simple and straightforward user interface and semi-unique functionality. And, indeed, it does lack in certain aspects but what's great about it is that instead of keeping your data to its own server, JellyReader uses your Google Drive or Dropbox account to store your news feeds and articles. Therefore, you gain full control over your data so you won't have to worry about losing articles if ever a certain website ceases to operate unless, of course, the problem involves your personal cloud storage. So go ahead and check it out.
Price: Free

Version reviewed: N/A

Requires: Any type of web browser (Chrome, Firefox, IE, Safari, Opera, etc.) on any desktop operating system (Windows XP, Vista, 7, 8, Mac OS X, Linux, etc.)

Related Posts