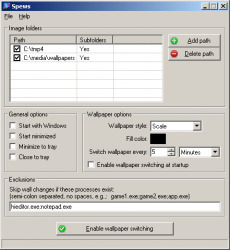 Did it ever cross your mind to automatically set or change your desktop wallpapers? Well, some of you might think that it is not possible but on the contrary, it's actually very easy to do. As a matter of fact, some versions of Windows support this feature. Like, for example, when your computer is running on Windows Professional, Ultimate or Home Premium. Now, what if your current version of Windows wouldn't allow you to have a rotating series of pictures as your desktop background? Is there any other way for you to be able to automatically set or change the wallpapers on your desktop? Fortunately, yes. You just need to run a software like Spews.
What Is It and What Does It Do
Main Functionality
Spews actually stands for "S* Process Excluding Wallpaper Switcher". According to its developer, the S in its acronym could literally mean anything. S could stand for "super" or "simple" but what's more important is that it is specifically designed to automatically switch your desktop wallpapers within a specific time interval. What is also great about this portable automatic wallpaper changer is that it is non-obtrusive as it silently runs in the background. All you need to do is to set it up by adding your preferred images or wallpaper folders and then you indicate your preferred time interval. After which, just click the "Enable Wallpaper Switching" button at the bottom of your Spews window and you're done!
Pros
Easy to configure, easy to use
Portable (no installation required)
Can automatically switch or change your wallpapers on a timed basis
Can add any image from your folders and sub-folders
Supports almost any kind of image format – .jpeg, .jpg, .gif, .bmp, .png, etc.
Non-obtrusive – the program's window can be minimized in the notification area
Can be temporarily paused or stopped whenever you're running some important processes or programs
Customizable settings
Cons
You cannot manually switch your wallpapers by using a special hot key or keyboard command
There's no counter so you won't be able to track how much time is left before the next wallpaper gets loaded
Needs to add a variety of smooth and creative background image transitions
Discussion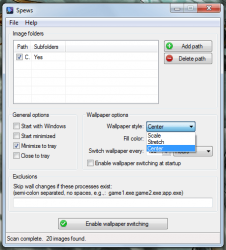 I have always been in the lookout for noteworthy programs that would allow me to automatically change or switch my desktop wallpapers. As for Spews, it definitely does what it is intended to do and I like the fact that it is very easy to set and configure. It should also be noted that Spews is a portable software so you don't need to install it on your computer. All you need to do is to download its Zip package and then you unzip its executable file to its own folder. After which, just launch the executable file and configure the program by adding your preferred wallpapers.
Anyways, I highly recommend that you place all of your wallpapers in just one folder. This way, you won't have a difficult time locating them whenever you feel like adding them on Spews. Of course, you can be more organized by sorting out your wallpapers. If you want to do this, just sort them out in different sub-folders. The software will then scan your folders and sub-folders for images. Once you're done, don't forget to set your preferred wallpaper refresh rate or switch time interval. The longest refresh rate that you can set is 100 hours.
What I also like about this program is that you can set your preferred wallpaper options such as the wallpaper style and fill color. You can also opt to enable the program at startup so you don't have to manually load it whenever you turn on your PC or laptop. It's also great to know that this program can silently run in the background and you can even keep its window minimized in the system tray area.
Functionality wise, Spews proves to be very reliable. It's stable and responsive plus it doesn't have any annoying glitches or errors. I just noticed that it lacks some essential features that would make it more user-friendly and efficient. Like, for example, it doesn't have any visible counter so you won't know how much time is left before the next wallpaper appears on your desktop. There's also no option or command that would allow you to manually refresh your desktop screen even if it is not yet time to load some new wallpapers. It would also be great if this program could add some cool and smooth background image transitions.
Conclusion and Download Link
I like Spews mainly because it's easy to use plus it's very practical. It offers a hassle-free way of showcasing all of your favorite wallpapers so you don't have to feel bored while staring at your desktop's plain old static wallpaper. All in all, it's a nice and handy desktop customization tool, so go ahead and check it out.
Price: Free
Version reviewed: 1.0.3
Supported OS: Windows XP, Vista, 7 and 8

Download size: 586KB
VirusTotal malware scan results: 0/47
Is it portable? Yes
Related Posts