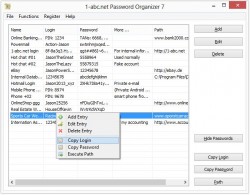 In today's online world, it is critical to ensure you do not use the same username and password for all your logins. (Side but related note: be sure to read dotTech's guide on how to create strong but easy-to-remember passwords.) However, trying to remember all those different logins can be a pain. That is where password managers come in, and 1-abc.net Password Organizer is one such password manager. Let's see if it is worth your time.
What Is It and What Does It Do
Main Functionality
1-abc.net Password Organizer is a password manager for Windows that allows you to store and encrypt your login information — usernames and passwords.
Pros
You can save as many logins (username/password/URL + any extra info you want) as you want
Encrypts stored logins with

AES

(bits unknown, developer doesn't say), and only people who know the master password (which you set and, hopefully, not tell anyone else) can access your logins
Can generate random passwords for you
You can set the program to remind you to change your passwords every X days
You can set the program to automatically close itself after X minutes of inactivity
Can export your logins into TXT, SQLITE, and CSV files or by printing
You can easily backup/create a copy of your login database
You can easily copy login username or password to clipboard with a click
You can easily open login URL with a click
Has a built-in search tool to search your login info and sort your data
Supports multiple languages: English, Dutch, Czech, French, German, Hungarian, Polish, Portugese, Slovak, Spanish
Small download size and not too hard on RAM and CPU
Cons
No real browser integration — you won't be able to use this program to easily login, you need to manually copy/paste or look at logins and type to login
In the program you can hide/show logins. When you are showing logins, ALL saved logins — including passwords — are shown instead of just showing the one you want, which is a huge security risk if you are in a place where someone can read over your shoulder
By default when you open the program interface, logins are set to show by default. It would be better if the logins — or at least the password portions — were hidden by default.
There appears to be a setting in the program where you can set it so only your passwords are hidden and the login username/path are shown. However, as per my tests, this feature is buggy; even when I have it set to only hide password, everything is hidden for me — username, password, URL, etc.
Developer indirectly claims the program can be made portable by saying "Program can be installed on hard drives, camera cards, USB sticks and nearly all other re-writable media". However, by default the program is set to store your database of saved information locally on the computer it is running on (e.g. in the User/Roaming in Windows 7) which means your logins won't go with you if you run the program from an external drive. Thankfully, you can change this behavior from Options but the point is, by default this behavior should be changed — you shouldn't have to do it manually.
Developer claims "Global hotkeys for easy entering login and password data in other programs"; either the developer is lying and the feature isn't there or it is hidden, because I could not find any hotkeys as claimed by the developer
Many password managers can store data other than logins; not 1-abc.net Password Organizer
$19.95 is not a bad price for a password manager but this is a very simplistic password manager and asking $19.95 for it is a huge ask, especially when you consider you can get much better password managers (e.g. RoboForm Pro Desktop, Sticky Password Desktop) for just $10 more
Conclusion and Download Link
We've reviewed plenty of 1-abc.net software here on dotTech. Most of the time, the verdict is 1-abc.net products are OK — not bad but nothing amazing either. Unfortunately, however, 1-abc.net Password Organizer is not even OK; there are so many issues with this program, it is simply a bad password manager. Indeed, I wouldn't recommend using 1-abc.net Password Organizer if the developer paid you $19.95, forget you paying $19.95 for this program.
If you are looking for an awesome password manager, I highly recommend you read dotTech's review on best free password managers for Windows. In that review, we list excellent — yet free — password managers for you to use. If you don't like any of the free password managers we recommend, then two great paid password managers are RoboForm Pro Desktop and Sticky Password Desktop. Both cost $29.95 (one time payment), which is $10 more than 1-abc.net Password Organizer, but are feature filled and are two of the best password managers around. You can also opt for their cloud sync versions, but those are a bit more expensive at $19.95 per year.
As a parting note, be sure to read dotTech's guide on how to create strong but easy-to-remember passwords.
Price: $19.95
Version reviewed: 7.00
Supported OS: Windows XP, Vista, 7, and 8

Download size: 663MB
VirusTotal malware scan results: 0/47
Is it portable? Sort of

1-abc.net Password Organizer homepage
Related Posts