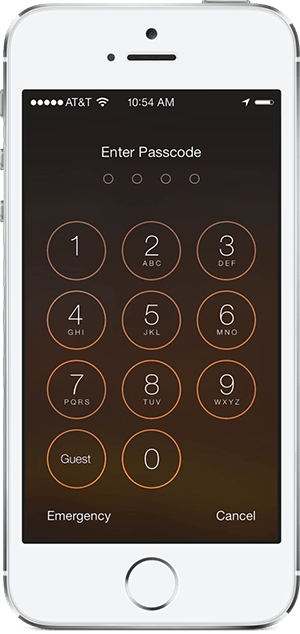 Wouldn't it be nice if you could enable guest mode on your iOS device just like Windows or Mac? This mode will come in handy in situations where you want to hand your device to your friend or anyone else but would like to prevent them from accessing certain apps or places on your device.
A new jailbreak tweak called GuestMode by iOS developer Ian Burns offers to implement such a feature into your iOS device. This tweak allows you to enable guest mode right from your lockscreen and restrict users from using certain apps or features of your device.
GuestMode can be installed from Cydia via BigBoss repository for only $0.99 which is worth it. Once you install the tweak, you can configure it from Settings app according to your liking.
That said, when you go to Settings -> GuestMode, you'll find a range of configurations to make and you can Enable/Disable GuestMode from here. The following are the settings you can make with a brief description of what each setting does :
– Entering Guest Mode: You can select how you want to enable the guest mode. You can choose whether to show a guest mode button at the bottom left or buttom right of the lockscreen passcode such that it is enabled when you tap on it. You also have the option to enable it by swiping the lockscreen to the left. swiping the lockscreen passcode to the right or activate it with an Activator gesture.
– Guest Passcode: You can enable and set a passcode for the guest or disable this option completely
– Lockscreen Camera Access : Enable or disable camera access for guest
– Guest Mode Privileges: Here you can choose which features the users will have access to when you enable guest mode. The options include
Notification Center
Control Center
App Switcher
Close Apps from App Switcher
Spotlight
Siri
Newsstand
Phone Dialer Only (Shows only Phone Dialer when the Phone app is opened)
Single Safari Tab (Allows a single safari tab to be opened only)
– Enabled Apps: This is one of the main settings which you have to make. From here, you can tick which applications you want to allow the guest to open. Unticking the application means that the guest will not be able to open the application when you enable the guest mode. The disabled applications will be shown as dark on the homescreen and tapping on it will not open it in the guest mode.
These are the settings which you'll have to make once you install the GuestMode tweak. After you enable the guest mode from your lockscreen, the passcode will be bypassed and the guest mode will be enabled. The user/guest will be taken to the homescreen by which they are bound to the restrictions you have set. Once you lock the device, the guest mode will be disabled and you can enter the lockscreen passcode to gain full privileges to your iOS device or enable guest mode again.
'GuestMode' is a very useful tweak if you want to prevent your friends or anyone else from accessing certain apps or features in your device. This is quite useful in situations where you want to hand your phone to a complete stranger or a friend who wants to make a phone call or to your kid who wants to play a game only.
If you find this tweak useful or would like to try it, you can get it from Cydia via BigBoss repository for just $0.99 and it works on iOS 7 devices only.
Related Posts