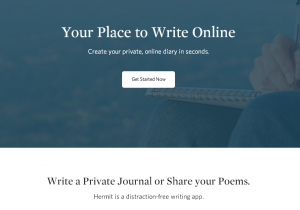 Keeping an online journal can be very handy especially if you want to record your important life events. If you like to travel, then you can use it as a travel journal. You can even use it to keep all of your self-penned poems. What's great about it is that you don't need to carry a bulky writing journal. You are also free to access it whenever you like. Speaking of which, Hermit is a distraction-free online journal that likes to keep things simple and straightforward.
What is it and what does it do
Main Functionality
Hermit is a distraction-free writing web app/online journal that you can use to keep a record of your daily life events as well as some other important things that you wish to write. It is completely private plus its interface isn't flooded with hundreds of features so you can just focus on writing what's on your mind. To use this web app, all you need is to register a free account and that's it. You're all set to create your very first journal entry with no frills or whatsoever.
Pros
Easy, safe and secure
Neat and distraction-free user interface
100% Private – your data is encrypted so no one else can view the entries that you wrote on your journal
Automatically remembers the last page that you've opened so you can immediately pick up where you left off
Your entries will be automatically saved and backed up – all that's left for you to do is to write, no need for you to constantly worry if your entry has been properly saved or not
You can sort out your entries as different "books" or journals – you can keep a separate journal for your poems, travel experiences, dreams, etc.
You can download your entries as PDF
Cons
There's no quick search tool for finding specific journal entries. It would also be great if the said web app could allow its users to add some entries to "bookmarks" or "favorites".
You can't delete an entire "book" or online journal
Discussion
The web is filled with lots of free writing tools and platforms. It's just that not all of these tools are ideal for keeping a private or personal diary. Therefore, it would be best if you can choose a writing tool or platform that is simple to use yet secure and reliable. This is what Hermit is made for.
As I've already mentioned above, Hermit is a distraction-free writing app. With this web app, you don't need to download or install anything on your computer. Everything is done online so all you need is to create a free Hermit account and you're all set to write on your journal.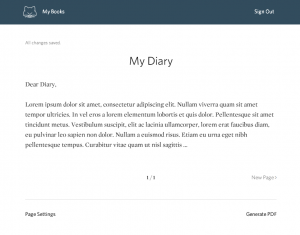 What I like about Hermit is that it is very simple to use. It isn't packed with unnecessary tools and features so you can just focus on writing what's on your mind. Your entries are also private so no one else can read them unless, of course, you allow them to do so. Other than this, you are also allowed to create as many entries as you like and you can even keep them as separate "books" or journals. To start writing, you simply need to log-in to your account and then there's a pre-formatted journal entry that you can edit. You simply need to change the heading or title and that's it. The content is totally up to you so you're free to write whatever you like.
What's also great about this tool is that your data will be automatically saved and there's no need for you to manually create a data back-up. Hermit will do all that for you. It will also remember the last page where you left off.
All in all, I can say that Hermit is a pretty decent online writing app/journal. I like its distraction-free approach to writing and I also like the fact that it automatically saves everything so you don't have to constantly wonder if you have properly saved your entry or not. It's just that it could have been better if there's a quick search tool for browsing specific pages. It would also be great if it allow its users to add some of their entries to "favorites" or "bookmarks". I also noticed that it doesn't have an option for deleting an entire book or journal so you need to manually delete every page which is quite a hassle especially if you have already written a lot.
Conclusion and download link
If you are looking for a distraction-free writing tool and online journal, I suggest that you try Hermit. It's very simple to use plus it lets you download your journal entries as PDF. It may lack some essential features but its secure, stable and definitely worth checking out.
Price: Free

Version reviewed: N/A

Requires: Any web browser (Chrome, Firefox, Safari, Opera, IE, etc.) on any desktop operating system (Windows XP, Vista, 7, 8, Mac OS X, Linux, etc.)

Related Posts