For those that have been following the discussion in the KeyExtender review, Rob – a loyal dotTechie – offered to make his CapsLock Warning program available to other dotTechies. Since then, me and Rob have been discussing the program behind the scenes and have finally come up with a final product ready for everyone to download (well, it was Rob doing all of the heavy lifting… I just tagged along to leech credit =P).
By the name of the program, I am sure most everyone can guess what the program is. However, I will still explain. CapsLock Warning is an simple but elegant program intended to help avert Caps Lock-related problems by displaying a "CAPS LOCK ON" message to users whenever Caps Lock is turned on: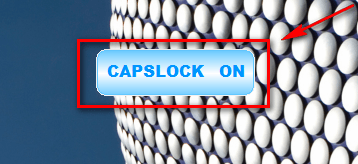 Via the program options (right-click system tray icon -> "CapsLock OPTIONS"), users are given the ability to control where the "CAPS LOCK ON" message is displayed, and how it behaves: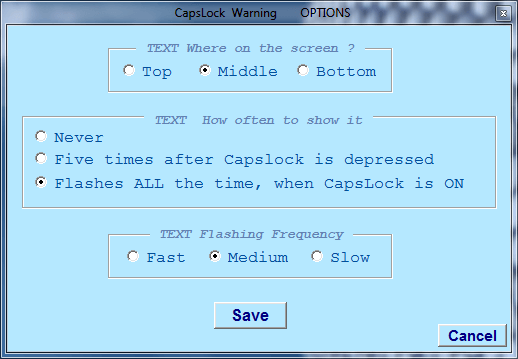 TEXT Where on the screen – this setting allows you to select which part of your screen the "CAPS LOCK ON" message will be displayed (top, middle, or bottom).
TEXT How often to show it – every time you turn on Caps Lock, CapsLock Warning will display the "CAPS LOCK ON" message once. After that initial display, you can control if you want the message to flash on the screen for you, and if so, for how long. "Never" makes it the message is not flashed again after the initial time. "Five times after…" makes it so the message is flashed five times after the initial display. "Flashes ALL the time…" makes it so the message continuously flashes until you turn off Caps Lock.
TEXT Flashing Frequency – this setting control how fast the flashes occur. Take note that this setting also controls how fast the initial flash is displayed so even if you have the previous setting set to "Never", this setting is still relevant.
In  addition, to the "CAPSLOCK ON" message display, the system tray icon for CapsLock Warning continuously flashes while Caps Lock is on.
If/when you want to turn off CapsLock Warning, all you need to do is right-click the system tray icon, and select "UNLOAD THIS PROGRAM COMPLETELY".
CapsLock Warning is a portable program, so after downloading it, just unzip it and run CapsLockWarning.exe to use it – there is no need to install. Since it is a portable program, you may place CapsLockWarning.exe in any folder on your computer except for your main directory (i.e. C:/) because it uses a Settings.ini file to save your settings.
After you download the program, please pay particular attention to the Readme because in it there are important instructions in there, such as how to make CapsLock Warning turn on automatically at Windows boot.
Now, as per Rob's request, CapsLock Warning is available to dotTechies only. In other words, you must be a registered member on dotTech in order to download CapsLock Warning. If you are already a registered member, please login and come back to this post; if you are not a registered member, register, login, then come back here.
NOTE: Rob took his own time to create this very handy program for us. Please respect his wishes. Please do not host CapsLock Warning on any other website/server, and please do not directly link to the file on dotTech. If you want your friends and family to know about and get CapsLock Warning, simply provide them a permalink to this article.
To get CapsLock Warning, simply download it from the following link:
Version reviewed: v1.00

Supported OS: All Windows

Download size: 20 KB
Thanks Rob!
P.S. Please provide feedback to Rob in the comments below. For example, if there are any bugs with CapsLock Warning, please say so or if there are any features you want added in CapsLock Warning please say so.

Related Posts