Windows 7 includes a variety of customization options with which you can tweak its windows. With its options you can change the window fonts to various alternatives. This is how you can customize the Window 7 active window title and menu fonts.
Open the Windows 7 theme window by right-clicking the desktop, and selecting Personalize. Then click Window Color at the bottom of the window. Select Advanced appearance settings to open the window below.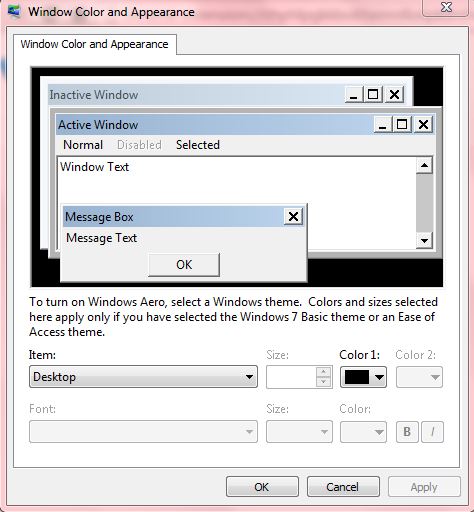 It is this window that includes all the options for customizing the Windows 7 window fonts. Note that the window states, "Colors and sizes selected here apply only if you have selected the Windows 7 Basic Theme." As such, select a Windows 7 Basic theme before you configure the windows' titles.
To change the window title fonts, click the Item drop-down list and select Active Title Bar.  Then click the Font drop-down list, and choose an alternative font for the title bar. When you select a font, the selected font is added to the preview windows above. Next to the fonts you can also choose an alternative font size for the title.
Click Apply to add the new title font. Then you should find that the active title bar fonts in the window has been altered to the one selected as in the shot below. There I have changed the font to Cambria, and added italic formatting.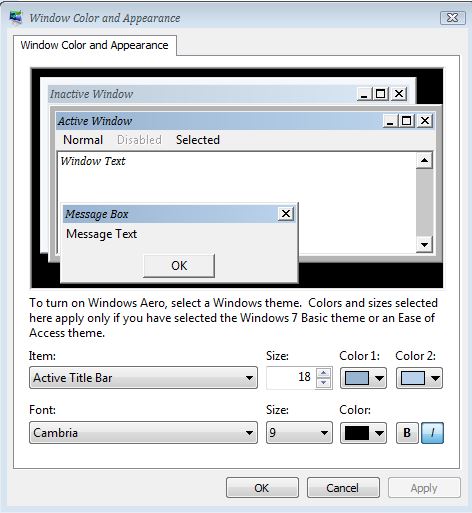 You can also tweak the window menu fonts much the same. Select Menu from the Item drop-down list. Then pick an alternative font from the Font drop-down list. Click Apply to add the new menu font to the window menus as in the shot below. The Windows 7 context menus will also include the new font.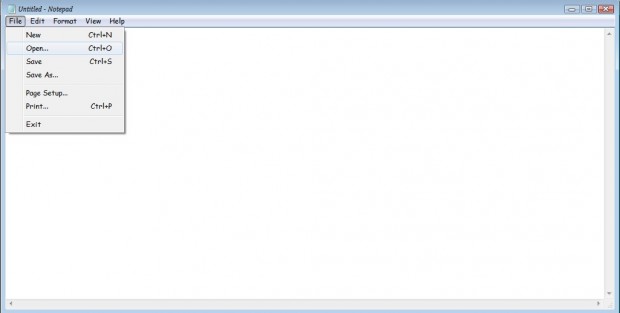 To revert back to the Windows 7 default fonts, right-click the desktop and  select Personalize. Then select one of the Windows 7 themes to restore the fonts.
Overall, Windows 7 has plenty of options for customizing its window fonts. You can customize active titles, menu fonts and more besides from the Window Color and Appearance window.
Related Posts