As it seems the list of features removed in Windows 8 is never ending. One of features Microsoft removed was the ability to be notified of new updates from the taskbar. In previous versions of Windows we had a small icon appear to alert us new updates were available. This doesn't affect everyone, only people who opt to manually select updates and the problem itself is a careful move Microsoft to remove more user power. In recent years Microsoft has used ever important update tool to deliver software that it was promoting, for example Bing bar and MSN messenger.
The good news is a small portable app was created to deliver beautiful update notifications, its called "Windows (8) Update Notifier."  It provides you a way to know that updates are available and the second it appear clicking it will launch Windows Update for you. The only issue with this tool is that is it portable, you will need to add it to start up list. You can do so by pressing WIN+r and entering shell:startup. This will open a folder containing shortcuts, create a shortcut to WindowsUpdateNotifier.exe and your done. It also offers customization of appearance, you can make it look like the Windows 7 notification if you wish.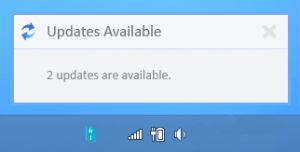 You can download it here, there are current two versions available a portable and full install.
Related Posts