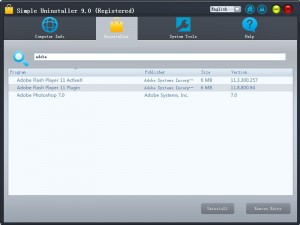 Often on Windows when you uninstall a program, it isn't completely uninstalled. True, the program itself has been removed from your computer but chances are, the program has left behind files, folders, and registry entries. Some programs leave more junk behind than others. In some situations, the junk is left behind purposefully, such as for saving your program settings in case of reinstall. More often, however, junk is left over simply due to poor programming — a developer that doesn't know how or doesn't want to clean up after their program upon install. That is why clean uninstallers were invented and Simple Uninstaller is one such clean uninstall. Let's see if it is worth your time.
What Is It and What Does It Do
Main Functionality
Simple Uninstaller is a clean uninstaller; it searches for and removes registry entries, files, and folder once you uninstall a program.
Pros
Finds and removes registry entries, files, and folders left behind after programs are uninstalled
Has forced uninstall feature for programs with broken uninstallers
Has a repair program feature
Has built-in search function that lets you search your installed programs list
Cons
Is buggy, as per my tests. In fact, I couldn't even run the program — much less use it to uninstall other programs — on my test machine (Windows XP, 32-bit): the program simply crashes every time I try to run it.
Since the program won't even run, I couldn't really test its features and how good or bad it performs. However, I analyzed the program's website and associated screenshots to get an understanding of what the program can supposedly do and I must say it is nothing special. The program costs $19.95 and it provides you with basic clean uninstalling fuctionally found in many freeware programs. Indeed, for $20 you can purchase RevoUninstaller Pro (which normally costs $39.95 but coupons and sales can be readily found) which offers you more features and gives excellent performance.
Conclusion and Download Link
If a program cannot even properly run then I doubt it provides good performance when clean uninstalling. Nonetheless, maybe there is something quirky on my test machine that causes the program to continually crash. Who knows. If you want to give Simple Uninstaller a test run, please do post in the comments below and let us know your experience with it. As for my recommendation? Well, I can't really recommend a program that keeps crashing now can I? Nope. Instead of Simple Uninstaller, I recommend you read dotTech's review of best free clean uninstaller for Windows to learn of free and excellent clean uninstaller for Windows.
Price: $19.95
Version reviewed: 9.0
Supported OS: Windows XP, Vista, 7 and 8/8.1
Download size: 4.36 MB

VirusTotal malware scan results: 0/50
Is it portable? No
Related Posts