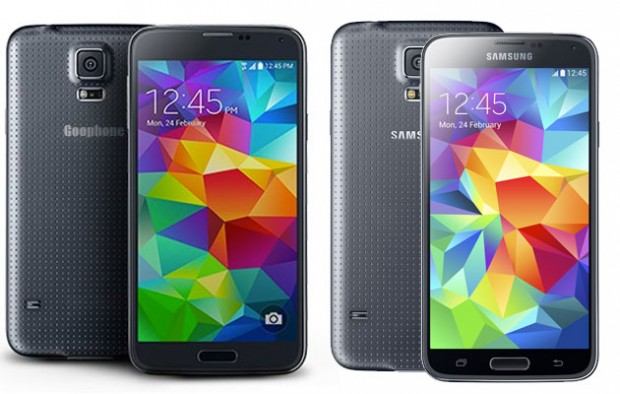 Samsung announced the much-awaited Galaxy S5 flagship smartphone on Monday at MWC 2014 in Barcelona. While the actual release date is set for April 11th, pricing details have not been made available as yet. But you can be sure of one thing, that its not going to be cheap. Well, if you've been drooling over the fancy new features of the Galaxy S5, like the heart-rate monitor and fingerprint scanner, but are not too kicked about the expected pricing, there may be a way out, thanks to GooPhone, which has produced a knockoff clone of the Galaxy S5 called the GooPhone S5.
GooPhone S5
For the uninformed, GooPhone is a Chinese smartphone maker which specializes in knockoffs of popular, high-profile Android & Apple devices. The GooPhone S5 is another one in the long list of clones from GooPhone, and it looks almost identical to the real deal. In fact, it can very well pass a casual glance, for the real mccoy.
GooPhone S5 Specs
Under the hood though, it's a different story. Behind a 5-inch 1080p HD display, there's a 2GHz MediaTek 6592 octa-core CPU, along with a healthy 2GB of RAM to keep things ticking along smoothly. Other specs include a 13MP camera with LED flash and a 5MP front-facing shooter. There's 32GB of internal storage with the option to add additional memory via microSD card. There's a 2800 mAh battery and the phone will run Android 4.2 Jelly Bean out of the box.
Conclusion
While the specs are not necessarily in line with those of the Galaxy S5, they are quite impressive considering the asking price of $300. MediaTek has evolved as a chipset maker over the years and is a preferred brand for several lower-priced device makers from China and India. The rest of the specs are pretty much what you would expect to see on most high-end devices these days. Why should it be any different for the clone?
Consumers who are more aware of the latest products from high-end OEMs like Samsung and HTC might prefer to stay away from a knockoff, But there is definitely a huge market out there for products as these, from people who want to be able to flaunt a phone which looks almost identical to the hottest thing out there, while paying almost half the price. The phone is currently listed as Out Of Stock on the GooPhone website, as it  has probably not gone into production yet.
Related Posts