Recently IObit, a software publishing firm famous for their Advanced SystemCare software package and their Internet Security 360 scandal, released a freeware product – Advanced Uninstaller – that aims to serve all your uninstalling needs: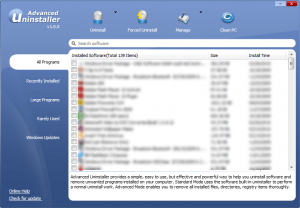 While the focus of Advanced Uninstaller is on performing clean uninstalls (i.e. performing a regular uninstall then scanning your computer for left over files and registry entries), it comes with a couple of other attractive features also:
The ability to perform "force" uninstalls (uninstalling programs that have no uninstaller)
The ability to uninstall programs in batch (uninstall multiple programs at once; take note that the "clean uninstalling" will happen in batch but you will be prompted to run the uninstaller of each individual program one at a time).
Other potentially useful aspects of Advanced Uninstaller include:
The option for you to view your installed programs by "All Programs", "Recently Installed [Programs]", "Large Programs", "Rarely Used [Programs]", and "Windows Updates".
The ability to select between "Advanced" uninstalls or "Standard" uninstalls. (By default Advanced Uninstaller is set to do "Advanced" uninstalls, which are clean uninstalls; however one can also opt to do "Standard" uninstalls, which are the same thing as running the uninstaller from Add/Remove Programs.)
The ability to automatically create Windows Restore points because an uninstall takes place.
The logging of all actions taken by Advanced Uninstaller.
The ability to export the programs list into a text file.
Portability – no installation is necessary.
Of course Advanced Uninstaller looks good on paper, but in reality it is only worth how well it works. Seeing as the focus of the software is performing clean uninstalls, I did a (basic) test of Advanced Uninstaller vs RevoUninstaller to see which program did better clean uninstalls. I was disappointed to find that Advanced Uninstaller is yet still an infant – it doesn't do very good clean uninstall; RevoUninstaller found files and registry entries leftover for programs while Advanced Uninstaller didn't find much at all. Of course as I mentioned it was a basic test – nothing rigorous enough to be published into Computer Science Today – but the tests are good enough for me to put all my eggs in RevoUninstaller's basket. I did, however, find Advanced Uninstaller's ability to do batch uninstalls to be very, very useful; I wish RevoUninstaller had this feature.
You may download Advanced Uninstaller from the following links:
Version reviewed: v1.0.0


Supported OS: Windows 2000/XP/Vista/Win7

Download size: 687.4 KB
Related Posts