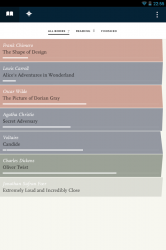 If only it is possible for one to have an efficient e-book reader app that could sync and load all types of e-books including those with DRM (may it be from Amazon or Adobe or somewhere else). Unfortunately, this is not always the case especially to those who just casually download their e-books from different sources. So it's like you have e-books that you can only read using Kindle Reader while you also have those that you can easily read using your tablet's default PDF reader. Anyways, if you still haven't gotten yourself a reliable e-book reader, you might as well check out this app called Readmill.
What Is It and What Does It Do
Main Functionality
Readmill is a free e-book reader that you can download and install on your tablet or smartphone. It's basically an app where you can load and read all of your e-books but unlike other apps, it also lets you add any e-book that is protected by Adobe DRM. Apart from this, the app also supports automatic sync so you can easily upload and sync the e-books that you have on your computer.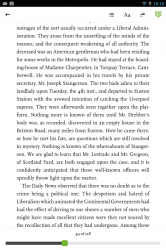 Pros
Easy to use, elegant user interface
Neat and responsive
Supports ePub and PDF books
You can also import or add any e-book that is protected by Adobe DRM (ex. e-books that come from Google, Kaplan, MediaCorp, UTPL, Saraiva, eBookPass, Courseload, Booktopia, Bookish, The Reading Room, eKitabu, HarperCollins, Librify, etc.)
Features various tools that would help enhance your reading experience – smart highlight, reading mode (night mode or default), adjust screen brightness, word define, book review and comment
Has its own community of authors and readers
You will have your own Readmill profile (can be viewed via public URL)
You can browse for free e-books in the "Explore" section
Cons
Does not support landscape mode
You cannot jump to a specific page or search for a specific page by typing a phrase or word
There are no options for customizing the e-book page layout – ex. adjust font size, split text into two columns, adjust line spacing and page margins, etc.
Requires Android 4.0 and up
Discussion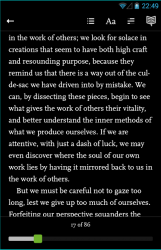 Readmill appears to be a very reliable e-book reader. It does what it is intended to do plus it also flaunts a beautiful user interface with elegant typography and user-friendly controls.
When using this app for the first time, you will be required to register an account using your Facebook or e-mail. The registration is free so once you're done creating your Readmill account; you will be immediately redirected to the app's welcome page. Furthermore, this app won't tend to distract your attention by providing some unnecessary features. It focuses more on providing you with a better reading experience.
In your app's homepage, you will only see two tabs – the first tab is your "Library". It is where you get to view all of your e-books including those that you are currently reading as well as those that you've already finished reading. The second tab, on the other hand, is your "Explore" tab. It is where you can search for free e-books to read and download.
If you want to add the e-books that you have on your device, just go to the app's "settings" and then select the option called "Import books from device". This will let you import all of the PDF and ePub e-books that you've stored on your tablet or smartphone. Aside from this, you can also import any e-book that is protected by Adobe DRM. You can do this by simply linking the accounts where your Adobe DRM-protected e-books are located (ex. Google, Kaplan, Bookish, HarperCollins, Librify, etc.). You can also add the e-books that you have on your computer.
Functionality wise, Readmill works just fine. When I tried it, it did crash a few times but all in all, it does what it is supposed to do. I just find it a bit disappointing that the app doesn't support landscape mode. It also lacks a couple of essential features and options that would help improve its user's reading experience.
Conclusion and Download Link
Readmill is a decent e-book reading app. I like it because it has a beautiful interface with easy-to-read fonts plus it also has its own online community that is similar to Goodreads. I also like the fact that it supports e-books that are protected by Adobe DRM. It may need some improvements in certain aspects but it's definitely worth checking out. So if you still haven't gotten yourself a reliable e-book reader, go ahead and give it a try.
Price: Free
Version reviewed: 2.0
Requires: Android 4.0 and up
Download size: 10MB
Related Posts