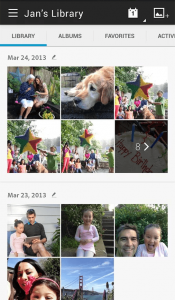 Got lots of photos? Well, maybe it's time for you to back them up. After all, you can never tell what lies ahead. Your computer or tablet might go cranky and if worse comes to worst, it would already be too late for you to realize that all of your photos (including your other important data) are all wiped out. So before that happens, you better start backing them up. Speaking of which, Adobe has a particular service that can do the job. It's called Adobe Revel but first, let's find out if it's really worth it or not.
What Is It and What Does It Do
Main Functionality
Adobe Revel is a cross-platform photo storage and sharing service. It's cloud-based so you can use it to upload, back-up and sync your photos privately. This means that no one else will be able to access your photos unless, of course, you permit them to do so. Speaking of which, this cloud-based photo storage service supports shared libraries – a feature wherein you can invite others to upload and share their photos to your library. With Adobe Revel, you can do the following:
Upload and sync your photos and videos across all platforms
Create shared libraries – these libraries are still private yet they can be accessed by other contributors
Create photo albums and add photos to "favorites"
Upload a photo or video directly from your tablet or smartphone
Load photos as slideshow
Like, comment, share and edit your photos – features a wide range of beautiful photo filters
Pros
Nice, responsive, stable and well-designed user interface
Simple to use
Supports multiple platforms – Android, iPhone, iPad, Web, Windows 8 and Mac
You can create an unlimited number of photo albums and shared libraries
For Android users, the Adobe Revel app currently supports JPG and PNG for photos and MP4 and 3GP for videos (*kindly refer to this link to view its supported formats for other platforms)
Has an integrated photo editor that is loaded with a wide variety of tools and filters
Supports automatic sync
Values your privacy – you are free to share your photos and videos on your own terms
Cons
The service offers a 30-day unlimited photo sync and import but after that time span, your free account will be limited to 50 photos and videos per month
The main UI can't be switched to landscape mode
Requires Android 4.0 and up
Discussion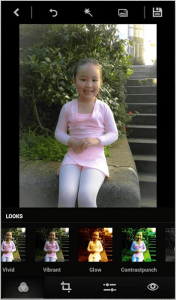 What Adobe Revel offers is a solid solution for photo back-up, sharing and user collaboration. It is mainly intended for photos and videos so your media content don't get mixed up with other files like your documents, audio files and presentations. It is also cross-platform plus it supports automatic syncing so you can immediately access your photos and videos on different devices may it be on your PC, Mac, Android tablet, iPhone, iPad or smartphone.
Moreover, what distinguishes this service from other cloud storage services is that it has an integrated photo editor. So whenever you upload or import a new photo, you can edit it using a wide range of photo editing tools and filters. You can adjust the photo's brightness, contrast, vibrance, shadows, clarity, tint, etc. It even has a red-eye removal tool plus you can crop, rotate, flip and resize your images in any way that you want. Once you're done, you are free to share your photos to others via bluetooth, email, SNS, SMS, Wi-Fi, etc. You can even make instant slideshows out of your photos.
Anyways, I find Adobe Revel for Android pretty easy to use. It is also very smooth and responsive. I also like its layout and UI design. It also supports shared libraries so you can easily invite others to upload their photos and you can easily do this while keeping your content hidden from unauthorized viewers.
However, I did notice that the main UI of the app could not be switched to landscape view but it can quickly adjust the orientation of the photos whenever you switch your device to landscape or portrait mode. It should also be noted that free users are only given 30 days to enjoy the service's unlimited sync and import feature. After which, your account will be limited to 50 photos and videos per month. If you want to raise this limit, then you'll have to upgrade to its premium version.
Conclusion and Download Link
To sum it all up, Adobe Revel is a fast, intuitive and secure service for storing and sharing your photos and videos. As for its Android app, it's fairly easy to use plus I like the fact that it supports shared libraries and it has a built-in photo editor. It's just that some of you may not like the idea that after the 30-day trial, your account will be limited to 50 uploads and imports per month but if you don't mind upgrading to premium, then go ahead and check it out.
Price: Free, Premium – $5.99/mo
Version reviewed: 1.0.0
Requires: Android 4.0 and up
Download size: 17MB
Related Posts