LibreOffice is a free and open source office suite, that gives you tools similar to Microsoft Office and is available on Windows XP, Vista, 7, 8, Mac OS X, and Linux. One feature of Microsoft Office is the ability to choose a skin or theme for all of your office apps, some users of LibreOffice complain that they cannot do the same. Well today we are here to tell you how you can customise the look of LibreOffice.
LibreOffice does not  provide you  the normal skin choices like blue or grey, you will be able to use the wide collection of FireFox Themes. This process is very simple and takes about one to two minutes to complete.
Installing the themes
In LibreOffice, click the Tools menu and select Options…. Using the LibreOffice menu on the left side, click on Personalization. In the window that opens, click on Own Theme and than click the button that says "Select Theme".

This will open a small window with two options. Click the "View FireFox Themes" button, this will open your web browser and allow you to browse themes. I would recommend choosing a light coloured theme, so you can still see you tool-bar icons. Once you find a theme you like, copy the URL and paste it into the Theme Address. Once you click okay, your brand new theme will be downloaded for you.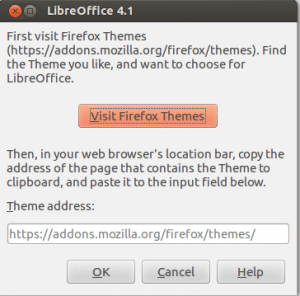 As you can see this is a very easy was of customising LibreOffice and adding your own touch. You can see an example below.

Related Posts