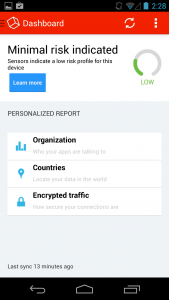 Having an anti-virus/anti-malware app on your device may protect you from any impending virus or malware issues but the question is, can it also protect you from unknowingly transmitting your important data to untrusted parties? Truth be told, it cannot and it would be much worse if you have some leaky and insecure apps. So what would be your best course of action? Well, you could use an app like viaProtect to help reduce your risk of being the next victim of privacy breach.
What Is It and What Does It Do
Main Functionality
If you still haven't heard of viaProtect, it is basically a mobile security app that is designed to help you keep track of the potential risks on your device that could jeopardize your safety and privacy. What this app does is that it gathers important data from your device (ex. mobile forensics, system, network, sensors, etc.) and it then analyzes that data to determine if you are at risk. This is usually the case if you are installing apps that are badly written and unverified. So without you knowing, these apps could easily transmit your important information to untrusted or unknown parties.
Anyways, with viaProtect you can:
scan your device and evaluate its risk rating
learn how your data is being transmitted – encrypted or unencrypted
determine where your data is being sent – organization and countries
be aware of any possible risky device modifications – ex. jailbreak/rooting
be informed about leaky, insecure and unvalidated apps
determine the type of sensors that are currently running on your device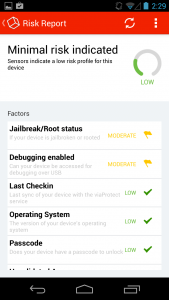 Pros
Neat, well-designed and responsive UI
Easy to use, easy to configure
Gives a detailed risk report about your device activity
You can run the app as guest
Supports real-time sync and toast notifications
Features a web dashboard which is meant to provide a more detailed report about your advanced application data, aggregate data, advanced group network data and group/individual device dashboards (this feature is only available to registered users)
Cons
Does not support landscape view
You can't determine the exact app that is causing your device to transmit data to unverified targets or destination
You can't download the full report as .txt or .csv
Requires Android 4.0 and up
Discussion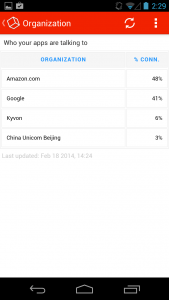 Nowadays, users are becoming more and more vigilant about what they share or what they do on the internet. This is not only because there are hackers and data thieves lurking everywhere but also because of certain alarming issues such as Cyber crime laws and of course, those that involves the NSA. Needless to say, it is no longer enough for one to simply think that your data is one-hundred percent secure and private. There's also no guarantee that your privacy won't be breached and if you don't take any action, you could become the next victim of identity or financial theft.
This is why having an app like viaProtect can help strengthen your line of defense. As I've mentioned above, this app can collect and analyze the data that you have on your device and it then gives you a full report that indicates your vulnerability to potential privacy threats. Moreover, this app is fairly easy to use. Once you've downloaded and installed it on your device, you may start using it as guest or as a registered user. Of course, being a registered user has its own perks. You may use the app as guest but if you opt to register using your email, you can gain access to its advanced metrics via web dashboard.
As for the Android app, you can basically get a risk report that shows your device current status. It will also provide you with a personalized report that consists of three main sectors – encrypted traffic, countries and organizations. If you click the "Learn More" button right below your device status, you will be able to view the factors that contributes to your device current status. On the other hand, if you click on the app's side-menu, you will be able to monitor your device's active sensors. Anyways, what's great about this app is that it supports real-time sync so there's no need for you to constantly press on the sync or refresh button just to get the latest results.
All in all, I can say that this app helps a lot especially in determining the behavior of your apps. If you have insecure apps, then it helps you track down those unusual events or activities that could compromise your data. Like, for example, you will know if a certain organization is gathering data from your device and if you seem to be doubting its credibility, then you can take the necessary action.
It's just that when I tried using this app, I found out that it currently doesn't support landscape mode plus it also won't let you download a copy of your device's full risk report. There's also no way for you to determine the exact app that is causing the unusual activity or behavior. You have to track it down yourself.
Conclusion and Download Link
What viaProtect for Android offers is an option for you to safeguard your data on an entirely different level. It lets you know what is actually going on with your data so you are aware as to how, where and when it is being sent. In return, you get to protect yourself against those impending security and privacy threats. It may have some minor drawbacks but all in all, it does what it is intended to do so you should check it out.
Price: Free
Version reviewed: 1.0.3
Requires: Android 4.0 and up
Download size: 3.0MB
Related Posts