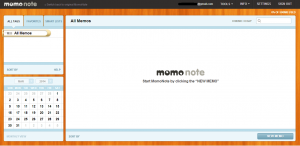 Note-taking is something that one cannot simply disregard. Come to think of it, you write down notes when you're listening to a lecture. You write down notes when you want to remember important events and occasions. You write down notes about your favorite recipes. Thus, it is already expected that you would need a reliable note-taking tool such as MomoNote.
What is it and what does it do
Main Functionality
Compared to the traditional way of writing down notes, MomoNote takes a more advanced approach to note-taking as it enables you to create notes and memos directly on your web browser. What's great about this app is that it's secure and fairly easy to use. It is also linked to your Google account. Aside from this, this note-taking tool is also available as an app for iPad and iPhone. You can also load it on other web browsers such as Firefox, Safari, Opera and Internet Explorer.
What you can do with MomoNote:
Write all kinds of notes and memos
Write a diary or journal
View, edit, delete and manage existing memos
Import existing notes and memos from other services such as Journler and Daynotez
Add memos or notes to "Favorites" and "Smart Lists"
Pros
Simple but neat UI, easy to use
Sorts and organizes your notes and memos by tags
Offers up to 500MB of space for your memos and photos
Has a built-in search tool and calendar
You can add your memos to "Favorites" and "Smart Lists"
You can import memos, export all memos and erase all memos
You can view your memos in full screen
You can add photos to your memos
Cons
The memo editor only supports plain text editing – it could've been better if the editor supports WYSIWYG editing. It also won't allow you to insert links, files and videos.
The Chrome app is supposed to work offline but when I tried out, it failed to load
You can't customize your memo's text and background color
Discussion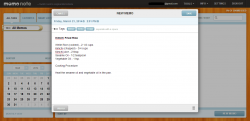 Compared to other web-based note-taking apps, MomoNote takes on a simpler approach to note-taking. It flaunts a simple user interface that enables you to quickly create memos and notes with tags. Speaking of which, tagging is the app's main method of organizing memos so it makes it easier for you to search for the notes that you want. It also has a built-in search tool so all you need to do is to type the specific tag or word that is related to your memo.
Do keep in mind that while MomoNote can be used on any type of web browser, it has a separate app for Chrome that you can download for free at the Chrome Web Store. Furthermore, this app is linked to your Google account so you're required to create a Google account. If you already have one, just click the app and log-in with your username and password. After which, you will be redirected to the app's dashboard.
To create a note or memo, simply click on the "New Memo" button that is located on the bottom-right corner of the dashboard. Anyways, you are free to type whatever you want so you can create memos of your ideas, wish list, contacts, etc. You can also create notes about your daily activities, upcoming events, birthdays, work seminars, etc. It's totally up to you. Once you're done, just click on the "Save" button and don't forget to add the appropriate tags.
All in all, I can say that I like this app mainly because of its simplicity. Plus, its tagging system also makes it easier for you to manage and browse your notes. It's just that it could have been much better if it paid more attention to its editor. Other than typing and formatting your text in bold, italic and underline, you cannot really do much with it except to add some photos. Aside from this, the app also won't let you customize your memo's text style and background color. You cannot also attach links and other types of media such as audio and video. I also noticed that in its Chrome Web Store page, the app is said to work offline but when it tried it out, it failed to load.
Conclusion and download link
Performance wise, MomoNote does fine as it is stable, responsive and free of lags and errors. Usability wise, it also fares well with other note-taking apps. It's just not as advanced as those that offers support for rich-text editing and file attachments. Anyhow, if you are just looking for a simple, straightforward and easy to organize online tool for taking notes and memos, I would suggest that you give this app a try.
Price: Free

Version reviewed: 2.1

Requires: Chrome on Windows XP, Vista, 7, 8, Linux and Mac OS X (also available on iPad/iPhone)

Related Posts