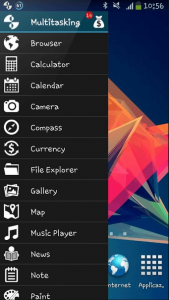 Switcher apps are great for multitasking but the thing is, such kind of apps won't allow you to launch and use your apps simultaneously. It's either you switch from one app to another or just simply focus on doing your tasks on one app before you move to another. Anyhow, if your idea of multitasking is to perform multiple tasks on different apps at once, then you should try this simple yet practical app called Multitasking for Android.
What Is It and What Does It Do
Main Functionality
Developed by OryonCorp, Multitasking is an app that allows you to open and use multiple tools and apps simultaneously. In other words, it lets you launch your apps in separate windows. You can also customize the settings, size and position of each window so you can easily hide them to your notification area. You can also view each app in full screen mode. The functionality of this app is similar to the way that you launch and manage your active programs on your desktop. Therefore, you can view your gallery while using your camera without having to switch from one application to another. It is also important to note that this app offers a paid (ad-free) version that offers more tools and options.
Easy to use, simple gesture controls
Neat, stable and responsive UI
Features a wide selection of tools and apps – ex. browser, calculator, compass, notes, gallery, currency converter, maps, calendar, camera, file explorer, maps, music player, news, paint, recorder, stopwatch, textpad, text to speech, translator, video player and weather
Configurable user settings
You are free customize your app's window size, location and opacity – ex. resize, maximize, hide or view in full screen
Cons
You cannot use your own apps to perform specific tasks. Instead, the app lets you use its default apps for creating notes, viewing files, converting currencies, etc.
There's no minimize button so you need manually resize your app's window right after you set its viewing mode to full screen
Discussion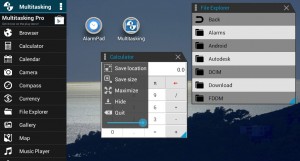 Compared to switcher apps, the functionality of Multitasking is similar to your desktop. So instead of letting you switch in between apps, you get to launch and use all of the apps that you want at the same time. So if you want to browse the web while recording your voice, you can. What's even more interesting with this app is that it opens your tools and apps in separate windows. You can also customize each window in any way that you want. You can even hide them in your notification area. The gesture controls of this app are also very easy to follow.
For starters, you need to download and install the app first on your Android device. After which, click on the app's icon on your home screen or app drawer and then follow the on-screen instructions. To enable the app, press the activate button which is located on the top-right corner of its settings screen. Thereafter, you are free to change the app's settings by checking the boxes that corresponds to a particular option such as start at boot, hide menu, hide notification, etc. Once you are done, simply go back to your home screen and then swipe your finger from the left edge of your screen. The app's sidebar will appear and it will show you a list of tools and apps that you can launch and use simultaneously. Just choose any app (ex. browser) and it will open in a new window. Do the same for the other apps and just use them accordingly.
Functionality wise, I can say that this app is very easy to use so it is suitable for users of all levels. It is also very stable and responsive plus I like the fact that you can drag, reposition and resize its windows in any way that you like. I also haven't encountered any serious problems while using this app – ex. forced close errors, lags, etc.
I just noticed that the current version of this app can only provide you with default tools and apps. It won't allow you to use your own apps to perform a certain task. Like, for example, instead of using Chrome as your web browser, it will use its default browser. The same goes when you're playing your music and videos on its music and video players. Aside from this, I also noticed that once you set your app's window on full screen, you cannot minimize it back in just one tap. You need to manually resize it back to its previous size. The good thing is, this app supports pinch to resize so it's not much of a hassle.
Conclusion and Download Link
Multitasking for Android offers a reliable option for users who wish to multitask. While it may be more suited for tablets, it also works fine on smartphones. It may also have a couple of minor drawbacks but its pros still managed to outweigh its cons. So go ahead and check it out.
Price: Free, Pro – $1.93
Version reviewed: 1.10
Requires: Android 2.3 and up
Download size: 1.9MB
Related Posts