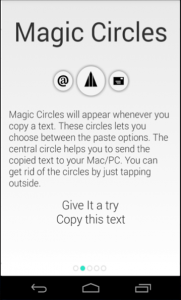 Every Android device has a native clipboard function. After all, it is one of the most essential features that you cannot live without since it enables you to copy and paste all sorts of content from one place to another. Now, what if I tell you that there's an app that functions like a clipboard but can do things on a slightly different level? The app is called Mime-O.
What Is It and What Does It Do
Main Functionality
Mime-O is just like clipboard but only way better. In what sense? Well, unlike clipboard, it can store all of your previous clippings (aka your copied content) and it can even share your copied content instantly via bluetooth, messaging, SNS or email. It also supports direct PC sharing so you get to send your copied text directly to your laptop or computer and vice versa. Most importantly, Mime-O is very easy to use. It is also non-obtrusive as it runs in the background. What makes this app even more interesting is that it also lets you find the meaning of your copied word in just one tap.
Pros
Easy to use
Neat and well-designed user interface
Stable and responsive, easy gesture controls
Non-obtrusive – the app runs in the background
Features a more advanced method of copying and pasting content aka "Magic Circles" – through this feature, you can copy any content and the app will automatically predict its possible paste locations
Allows you to keep track of your previously copied content via "Favorites" and "Recents"
Has a built-in dictionary tool so you can easily look up for specific word definitions (*requires a separate in-app download)
Copy to PC support – if properly configured, this app enables you to paste the copied content directly to your computer (supports Mac and Windows)
Configurable user options
Cons
The "Magic Circles" are only limited to pasting or sending your files to specific messaging and email apps such as Skype, Bluetooth, Gmail, etc. It doesn't provide magic circles for directly pasting your content to your calendar, browser, document processor or notepad
Minor glitches and bugs
Requires Android 4.0 and up
Discussion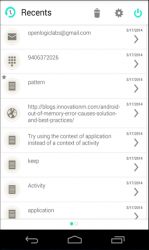 If the clipboard can allow you to copy and paste content with ease, well, so does Mime-O. As a matter of fact, it flaunts additional features that you cannot find on clipboard. One good example of this is that the app can keep a record of all your previously copied content so if ever you make some terrible mistakes, you can just go back to the app and copy the content all over again.
Another thing that I like about this app is that despite of its slightly advanced method of copying and pasting content, it still managed to present it in a simple and straightforward manner. Speaking of which, the app's main highlight is its so-called "Magic Circles". So every time you copy a content, its magic circles will appear at the bottom of your screen. In other words, the app will automatically predict the locations where you would like to paste your content. So instead of manually opening your messaging or SNS app, just tap the magic circle and that's it. The only thing that's left for you to do is to paste your copied content. Just keep in mind that the current version of this app only supports bluetooth, email and direct messaging. You still can't use it to directly paste your content to your notes, document/word processor or calendar.
When using this app, simply copy any content just like you usually do and right after you press the "copy" button, the magic circles will immediately appear at the bottom of your screen. This app features three magic circles – the first one is for directly pasting your content to any of your email applications while the second one (the one on the center) is for directly sending your copied content to your computer. As for the third one, it lets you paste and send your content via bluetooth, messaging or SNS. Do take note that in order to send your copied content to your PC, a secure server connection must be established so you'll need to install a separate application to your computer. Aside from this, the app will also require you to download the database for its built-in dictionary.
All in all, I can say that this app definitely comes in handy especially when you're often copying and pasting content from one source to another (ex. browser to email, email to SMS). It's just that it could have been much better if it offers more options for its magic circles since right now, all it can do is to paste or send your content to bluetooth, email, SMS or SNS. I also noticed a minor glitch that prevented the floating circles from disappearing from the screen but somehow I managed to solve the issue by killing and restarting the app.
Conclusion and Download Link
Mime-O for Android proves to be a wonderful clipboard alternative that is great for copying and pasting all sorts of content. While some of its aspects still requires further improvement, it is stable and responsive enough for you to use on a daily basis. So go ahead and give it a try.
Price: Free
Version reviewed: Varies with device
Requires: Android 4.0 and up
Download size: Varies with device
Related Posts