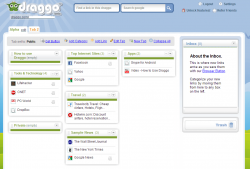 Bookmarking is by far the quickest and the easiest way to remember a particular link or site. As you can notice, your web browser has a built-in bookmark tool and manager that you can use anytime. However, it's still up to you if you want to use a different tool or bookmarking service. Speaking of which, Draggo is an online bookmarking tool and manager that lets you drag, drop, save and share your favorite links.
What is it and what does it do
Main Functionality
Just like the built-in bookmarks manager on your web browser, Draggo is also meant to help you save, organize and share your links. It's also a web app so there's no need for you to download or install any third-party software or program. All you need is to create a free Draggo account and that's it. You will be given a personal URL or address where you can access your online dashboard.
Your online dashboard is where you can save or bookmark your favorite links, websites and blogs. You can even sort out your bookmarks by type, category or tab.
Pros
Easy to use, accessible
Neat, stable and responsive user interface
Supports drag and drop
You can sort out your bookmarks by type (public or private) or category (news, articles, sites, stories, etc.)
You can share your public bookmarks online (just share your personal URL via email, Twitter, Google Plus, etc.)
No additional download or software installation required
You can import, export and backup your bookmarks
Supports all major web browsers
Cons
None that I can think of except for the fact that you cannot use it offline
Discussion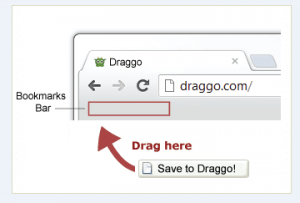 Draggo is basically meant to save and organize your bookmarks but what's great about it is that you can also choose to share your bookmarks to others. In other words, you're free to set your bookmarks as public or private. Just keep in mind that even if you make your bookmarks available to public, you still need to log-in to your account in order to update, edit or delete your links. Other people are also not allowed to edit your bookmarks.
Speaking of which, Draggo is fairly easy to use. All you need to do is to register a free account and you will be given a personal URL wherein you can access your online dashboard. On your dashboard, you are free to add all sorts of bookmarks may it be a link to your favorite app, game or blog post. If you want, you can also import the bookmarks that you've saved on your web browser. Aside from this, you can also organize your bookmarks by category or tab. Each category is presented as a separate box or section. Therefore, you're free to create different categories and separate them as tabs.
Another thing that I like about this online bookmarking tool is that it supports drag and drop. So it is very easy to move your bookmarks from one category to another. You can also move the entire box into a separate column or section. In addition, Draggo also supports almost all types of web browsers. It also has a separate browser button that you can drag and place into your bookmarks bar. You can use the button to instantly save your links as bookmarks without having to go to your online dashboard.
All in all, I can say that Draggo offers a decent solution for saving and managing your bookmarks. Considering the fact that it's still on its beta stage, it has already managed to showcase its core features as well as its stable and responsive user interface. While I really don't have any serious issues with this web app, I can say that it could have been much better if it would allow offline access. This way, its users can still view and edit their bookmarks even if they're not connected to the internet.
Conclusion and download link
Draggo is a great option for users who wish to manage and organize their bookmarks in a more efficient and hassle-free manner. It's also very easy to use, responsive and stable. It may not support offline access but what's important is that it does the job plus you can use it whenever you like without having to install any additional software or application. So go ahead and feel free to give it a try.
Price: Free

Version reviewed: Beta

Requires: Works on any web browser (Chrome, Firefox, Safari, Opera, IE, etc.)

Related Posts