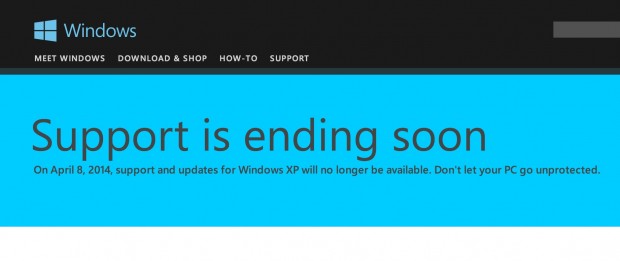 After supporting the operating system with updates for twelve years, Microsoft is issuing Windows XP's last ever security update next week. Technical assistance will no longer be available, automatic updates will cease and even Microsoft Security Essentials will not be made available for download on the OS. But despite this, Ars Technica reports that an alarming 28 percent of web users are still using the operating system.
If you continue to use Windows XP after support ends, your computer will still work but it might become more vulnerable to security risks and viruses. Also, as more software and hardware manufacturers continue to optimize for more recent versions of Windows, you can expect to encounter greater numbers of apps and devices that do not work with Windows XP. – Microsoft
This means that the 28 percent are (more) vulnerable to viruses and other security risks, possibly putting even other users at risk depending on what the computers are being used for (government offices, banking, etc.). Microsoft is urging users to upgrade their OS by either purchasing the latest version of Windows or even upgrading their current PC. The company has even gone as far as issuing pop-ups about the impending end of support on Windows XP users' computers.
Unfortunately, Ars notes that the OS "remains abundant, especially in China and other Asian markets." The report also notes that it wouldn't be surprising if new exploits for Windows XP are set out into the wild right after April 8.
So if you're still on Windows XP or you know someone who's still using it, please remind that it's time to upgrade. Windows 8.1 is surely not for everyone, but even that would be better than the trouble a nasty exploit could cause on an unprotected Windows XP machine.
[via Microsoft, Ars Technica]
Related Posts