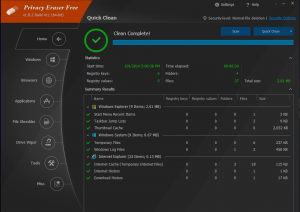 You may not be fully aware about it but the programs and applications that you use on your computer (and even your computer itself) are usually designed to keep a record of your activities which includes your browsing history, the photos and videos that you've watched, the games that you've played, etc. As a matter of fact, deleting a file does not entirely mean that you've completely wiped off the actual data from your hard drive. This is the very reason why a lot of users tend to look for a reliable system and security optimization tool such as Privacy Eraser.
What Is It and What Does It Do
Main Functionality
Privacy Eraser is a system and security optimization tool for Windows. It comes in two versions – paid and free. What this tool basically does is that it helps protect your privacy by cleaning up your computer system as well as your internet browsing history. With Privacy Eraser, you can permanently remove those deleted files and you can even set the said software to do a scheduled cleaning. By doing so, you can also utilize every bit of space in your hard drive by removing those unnecessary files.
As of its current version, Privacy Eraser can quickly delete your internet cache, browsing history, cookies, typed URLs, download history, auto-complete and auto-fill form history, saved usernames and passwords, temporary files, run history, search history, memory dumps, clipboard, recent documents, log files, dns cache, etc. Apart from this, this tool is also equipped with additional features such as its built-in drive wiper, file shredder, cookies manager and Windows start-up manager.
Pros
Neat, elegant and modern-looking user interface
User-friendly and non-obtrusive (can be minimized in the system tray area)
Fast, efficient and very stable
Supports stealth mode and scheduled data cleaning
Secure – the free version can be configured in two different security options (normal file deletion and simple zero-fill 1 pass)
Supports various types of applications such as Adobe Shockwave, Microsoft Office, Windows Paint, Skype, etc.
Cons
Main window cannot be re-sized
I'd like to have more secure file deletion algorithms in the free version aside from normal deletion and zero-fill 1 pass
Discussion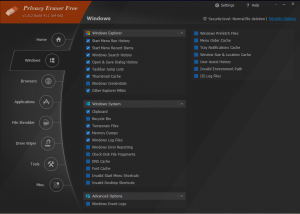 When using Privacy Eraser for the very first time, the first thing that you can immediately notice is its slick and elegant user interface that flaunts a modern design. It offers only one theme, which is black, but nonetheless, it has managed to provide not just an elegant design but also a feature-packed interface wherein you can easily select your desired option.
Speaking of which, the main menu of Privacy Eraser flaunts its core controls such as Scan, Quick Clean, Clean and Restart and Clean and Shut Down. On its side panel, you can also see the rest of its main options such as its settings for Windows, Browsers, Applications, Tools, Miscellaneous, etc. It also features some built-in tools that you can use to optimize the performance of your computer – ex. file shredder, drive wiper.
To get started, simply go to the software's main menu and choose among the available options. If you want to perform a thorough cleaning on your computer system, choose Scan but if you only want to scan and clean those crucial locations like your computer's temporary files, log files, internet history, you can choose Quick Clean.
Performance wise, Privacy Eraser can complete a quick scan in less then a minute but of course, the average time may vary per computer or system. When I tried it out, it only took around thirty seconds for it to complete the cleaning process. Plus, what I like most about it is that you can customize its settings by including or excluding some important elements. Aside from this, you can also set this software to conduct a scheduled cleaning which is most suitable for system maintenance.
All in all, Privacy Eraser provides all of the essential components that you'll need to optimize your computer and utilize its unused memory. It's also fast, stable and very responsive. It may not make a huge difference to those who are already using Ccleaner but if you still haven't gotten any reliable security and system optimization tool for your computer, this software is definitely worth checking out.
Conclusion and Download Link
Privacy Eraser is definitely one of the most reliable computer optimization and cleaning tools that I've tried so far. One of its best features is its stunning user interface plus it's fast, easy to use and works well. It's great for those who are still seeking for a reliable software that they can use to free up their computer's memory space as well as to those who are great concerned about securing their private files and other important data and deleting privacy traces. So go ahead and give it a try.
Price: Free, Paid – $19.95
Version reviewed: 1.8.2.411
Supported OS: Windows XP, 2012, 2008, 2003, Vista, 7 and 8
Download size: 3.96MB
VirusTotal malware scan results: 0/51
Is it portable? No
Related Posts