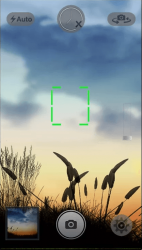 Do you like to take selfies (self-shots)? Well, it's not like it's really difficult to do but what if you want to take a full body picture of yourself and you can't ask anyone to do it for you? If that is the case, then you are most likely going to set your camera timer. You just need to find the right timing to do that awesome pose but what if I tell you that with Whistle Camera, all you need to do is to whistle. Sounds interesting, right? Well, if you want to find out more, just read my review below.
What Is It and What Does It Do
Main Functionality
Whistle Camera is a camera app for Android that you can use to take photos. It doesn't matter what kind of photos you wish to take. With this app, you can take selfies, landscape shots and even group shots with ease. All it needs is for you to whistle. Yes, that's right. This app can immediately take photos right after you whistle but if you want, you can also opt to take photos the normal way. With Whistle Camera, you have three ways to take your photos so it's either you whistle, press the camera icon on the screen or press the volume up button. You can also opt to activate the app's timer.
Pros
Fun, interesting and very easy to use
Neat, stable and responsive user interface
Can take photos using your front or rear camera
Features three ways to take photos – press the camera icon, press the volume up button or just whistle
Supports zoom and auto-focus
Supports both landscape and portrait orientations
Has a built-in countdown timer
Customizable user settings – language, picture resolution, whistle sensitivity, gallery location, etc.
Has its own picture gallery
Cons
None that I can think of but it would be nice if this app could also support voice commands – a feature that would be really useful to those who don't know how to whistle. It would also be nice if this app could add support for video mode.
Discussion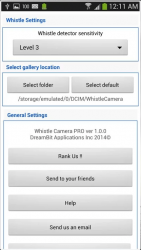 Needless to say, Whistle Camera is a very interesting whistle-detecting camera application. Not only does it feature a unique way of taking photos, it also flaunts a simple and user-friendly user interface. It may not be equipped with advanced photo effects and filters but it can certainly help you take your selfies with ease. Come to think of it, this app can be very handy if you want to take photos and yet you're all by yourself. Like, for example, when you want to take some pictures of a wonderful scenery while you're driving. You can also use this app to take a group picture without asking someone else to take the photo. The same goes for those who are fond of taking a bunch of selfies aka self-shots.
The way how Whistle Camera works is also very simple. Just open it and then place your device on any stable and even surface (ex. Table or smartphone holder). Apart from this, do make sure that all of the elements that you want to capture will be shown on the preview screen. Once everything is all set, just whistle. That means you need to make a whistle sound and as soon as the app recognizes your command, it will immediately take a photo. You can also repeat the procedure for as many times as you like.
Anyways, not all people know how to whistle so if you're one of those who are having a difficult time making that whistle sound, you can always opt to go for the traditional way of taking pictures and that is through pressing the app's camera icon or you can just opt to press the button for volume up. It's as easy as that. Once your picture is taken, it will be automatically saved to the app's built-in gallery so you're free to review and share the photos that you've already taken.
Functionality wise, I can say that Whistle Camera does what it is intended to do. I really like the fact that you can just whistle to take a photo plus you can also opt to activate the app's built-in timer. It may need a bit more polishing but it's current version is already good enough as it is but it would certainly become even more better if it would support more features like voice commands, video mode, shooting mode, scene types, etc.
Conclusion and Download Link
I like Whistle Camera mainly because of its interesting feature. It is very stable and easy to use plus its overall functionality is quite similar to Android's default camera app. With this app, you can just whistle whenever you want to take a picture and so far, I haven't encountered any other app that can do that so you might as well check this app out.
Price: Free
Version reviewed: 1.3.0
Requires: Android 2.3.3 and up
Download size: 1.5MB
Related Posts