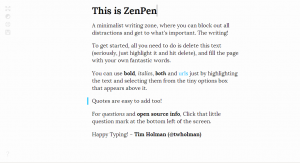 Have you ever wondered why you just can't seem to focus on what you are writing? It's like your mind is wandering off somewhere and you eventually lose your focus and concentration. Moreover, the tool that you are using to write doesn't help much either. Simply put, you are too distracted to get anything done but perhaps a distraction-free writing tool like ZenPen can help regain your mood to write.
What is it and what does it do
Main Functionality
ZenPen is a minimalist writing web app. It is a distraction-free writing platform that primarily focuses on helping you get back on track and write what's important. It is a free web app and you can load it directly on your web browser. Once fully loaded, you can immediately start writing. No need to log-in or register. Furthermore, this web-based application also flaunts a simple and straightforward writing interface that supports basic text editing so you can use bold, italics, quotes and URLs.
Pros
Easy to use
Neat, straightforward, stable and responsive UI
No download or additional software (browser plug-in/extension) installation required
No user log-in or registration required
Works on any web browser – ex. Chrome, Firefox, Safari, Opera, etc.
Features two viewing modes – light and dark
You can toggle the UI to full screen
You can save your work in three different formats – markdown, HTML or plain text
Cons
Lacks "preview" option
You cannot insert images
You cannot save the file directly as .doc or .docx
No autosave
Discussion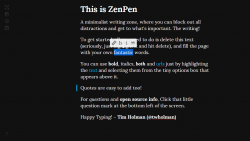 ZenPen is more like a "what you see is what you get" type of web application that primarily aims to provide its users with a distraction-free UI. With this web app, you don't need to download or install any additional plug-in or browser extension. There's also no need for you to log-in or register. Just load the web app on your web browser and that's it. You're all set to write what's on your mind. You're free to write anything that you like. You can write poems, essays, song lyrics, short stories, etc.
Compared to other writing tools with more advanced features and options, ZenPen is very simple and direct to the point. As a matter of fact, it is purposely designed to flaunt a minimalist user interface so that you can focus more on writing instead of wasting your time on other things such as changing your paragraph's style, text color, alignment, margins, document themes, etc. These elements may be important but can still be deemed as unnecessary especially if your primary focus is to properly convey your thoughts. Nonetheless, you're still allowed to perform basic text editing such as changing your text to bold or italic. You can also insert quotes and hyperlinks.
What I like most about ZenPen is its simplicity. It is very easy to use plus you can invert its UI colors so you're free to switch from light theme to dark theme (or vice versa). Aside from this, you can also set the web app's viewing mode to full screen. As for its basic editing tools, they won't appear unless needed so you get to have a spacious writing interface. If you want to edit your text, just highlight the word, phrase or paragraph that you need to edit and the editing tools will immediately pop up and float on top of your highlighted text. Once you're done editing, the tools will also disappear.
All in all, this web app does a really good job in providing its users with a distraction-free and easy-to-use writing tool. Even so, it still makes me feel that there's something lacking in it, something that would help improve its overall user experience. Like, for example, it doesn't have a preview option plus it doesn't support autosave. You also cannot insert images plus it only supports limited formats for saving your work. You may be able to save your work as plain text or HTML but what if you want to directly save your work as .doc or .docx? Right now, that isn't possible.
Conclusion and download link
ZenPen is a very decent and reliable web-based writing application that is ideal for users who prefers to keep themselves away from anything that could disturb their flow of thoughts. As a matter of fact, the web app's minimalist UI is very suitable for distraction-free writing. It may lack in certain aspects but its pros still managed to outweigh its cons.
Price: Free

Version reviewed: N/A

Requires: Works on any web browser (Chrome, Firefox, Safari, Opera, etc.) in any desktop operating system (Windows XP, Vista, 7, 8, 8.1, Mac OS X, Linux, etc.)

Related Posts