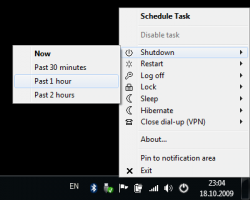 Did it ever occur to you that you could lower your electricity bill by turning off your electronic devices right after use? While it's always been a hot topic as to whether turning your computer on and off could shorten its lifespan, there are also a couple of sensible reasons as to why you shouldn't always leave your computer on. Speaking of which, you might want to check out this software called Airytec Switch Off – a lightweight system utility that you can use to automatically shutdown or restart your computer.
What Is It and What Does It Do
Main Functionality
Airytec Switch Off is a free system utility for Windows that is primarily intended to automatically shutdown or restart your computer. Aside from this, this software can also be used to schedule other system-related tasks such as putting your computer to sleep or hibernate mode. With Airytec Switch Off, all you need is to schedule a particular task with a corresponding action like shutdown, restart, sleep, hibernate, log off, lock, close dial-up and open calculator. This app also has a portable version but it is available as a separate download.
Pros
Easy to use, easy to install
Easy to configure
Neat, stable and straightforward user interface
Non-obtrusive – the software itself stays hidden in the system tray area
You can schedule a certain task with a predefined time interval or duration – daily, weekly, once, countdown, no computer activity, no user activity, at startup, at log on
You can set certain actions like shutdown, restart, sleep, hibernate, log off, lock, close dial-up and predefined scripts like open calculator
Customizable user settings
You can remotely shutdown or restart your PC using any computer or mobile phone
Cons
None that I can think of except for the fact that the said software won't let you schedule multiple tasks at the same time
Discussion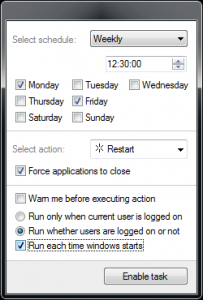 Airytec Switch Off has two versions – the full version and the portable version. With the portable version, no installation is required plus the software can run directly from your flash drive. As for the full version, you can install it like any other software and you simply need to follow the on-screen instructions. Furthermore, the said software doesn't carry any unwanted software (bloatware) plus it's totally safe to install.
Once installed, you can access and open Airytec Switch Off from your start menu and after which, you can immediately schedule a task by clicking its icon (the one that looks like a power button) on your system tray area. A pop-up menu will then show up and all you need to do is to select a schedule (ex. daily, weekly, once, countdown, no computer activity, no user activity, etc.) and set your preferred time duration. After which, you can select your preferred action like shutdown, restart, sleep, hibernate, log off, lock, close dial-up or open calculator. You can also opt to tick the box for forcing applications to close.
Moving on to the next step, you can just tick on the rest of the options that you think would be best suited with your scheduled task and once you're done, just click the "Enable Task" button and the software will give you a confirmation. Just keep in mind that you can only set one task at a time so you'll need to disable your current or active task first before you can start over.
Functionality wise, I find Airytec Switch Off very user-friendly. It is also very responsive and stable so it's great for day to day use. I also like the fact that it lets you shutdown or restart your computer using a different device or mobile phone via remote control. This feature, however, needs a separate set-up so you'll need to enable it thru the system utility's "Remote" options. With regards to its scheduled tasks, I didn't encounter any serious issues and it worked perfectly fine. Plus, there weren't any delays with the scheduled time.
To wrap things up, I can say that Airytec Switch Off is a very reliable system utility tool for automatically shutting down your computer. Apart from that, its function isn't limited so you're free to choose from its list of available tasks and actions. You can put your computer to sleep, hibernate mode and so on.
Conclusion and Download Link
Airytec Switch Off is, by far, one of the most stable, responsive and reliable automatic shutdown and restart system tools that I've tried and tested. It does its job well without any glitch, lags or errors. It also performs any scheduled task on time so if you're the type who often forgets to shutdown your computer system right after use, you might as well give this software a try.
Price: Free
Version reviewed: 3.4.2
Supported OS: Windows 2000, XP, Vista, 7, 8 and 8.1
Download size: 205KB (Full version)
VirusTotal malware scan results: 1/50
Is it portable? Yes

Related Posts