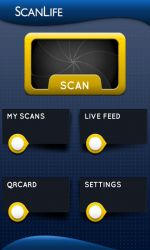 Nowadays, QR codes and barcodes are everywhere. You do not only see them in various items, you can also see them on websites, magazines, recipe books, catalogues and even on apparels. Needless to say, these types of codes are used everywhere so it would only be appropriate for you to equip yourself with a handy and reliable QR code and barcode scanner. After all, you'll never know when you'll need one. Speaking of which, let's find out if ScanLife QR and Barcode Reader can live up to your expectations.
What Is It and What Does It Do
Main Functionality
ScanLife QR and Barcode Reader is basically a simple yet useful QR code scanner and barcode reader. It is a free application that you can install on your Android device so you can use it to scan anything that has a QR code or barcode. Apart from this, this app is also capable of letting you create your personalized QRcard – a special QR code that contains your personal info and contact details. In addition, this app also features a bunch of creative scanner target themes like laser, fighter, old film, etc.
Pros
Easy to use
Elegant and modern-looking UI
Features different scanner target themes – clear, laser, fighter, disco purple, old film, vibration
Keeps a record of all your scanned codes in its scan history
You can create a personalized QRcard that contains your personal and contact info – think of it as your QR business card
Features a special section where you can discover the latest codes and items that were scanned by other users
You can share the scanned content from your QR codes and barcodes via bluetooth, IM, SMS, Facebook, Twitter and email
Cons
Cannot read QR codes and barcodes from stored images
Cannot create custom QR codes for applications, bookmarks, plain texts, coupons, etc.
You cannot customize its scan settings plus it doesn't support "bulk scan mode"
Discussion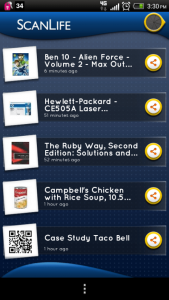 ScanLife QR and Barcode Reader works like any other QR and barcode scanners. You get to download and install it on your device and after which, you load its main screen and tap on its "Scan" window. If you do this, the app's scanner will immediately open and all you need to do is to place the QR code or barcode inside the box. Make sure that it is properly placed in the center and no part of the code should be left outside of the box. If the app fails to sense any code, it will automatically close the scanner and go back to its main menu. If it recognizes the code, it will open it and it is up to you if you want to share the content of your scanned code thru Facebook, Email or Twitter.
One thing that I like about ScanLife QR and Barcode Reader is that it flaunts a nice, stable and responsive user interface. It is also user-friendly plus it lets you change your scanner target theme from laser to disco purple, old film, etc. It can also recognize a wide variety of QR codes plus all of your previously scanned codes will be kept in its scan history.
Aside from the ones mentioned above, ScanLife QR and Barcode Reader can also create a personalized QR business card which contains your personal and contact info. Meanwhile, those who are in the US can use this app to scan and search for local store prices of any product. You can also use this app to scan for a specific product's nutritional facts.
All in all, I can say that ScanLife QR and Barcode Reader does what it is intended to do but it does lack in certain aspects. Like, for example, it doesn't support bulk scanning so you cannot use it to scan multiple QR codes at the same time. It also won't let you create other types of QR codes aside from virtual contact cards. It is also a downer that this app can't be used to read the QR codes that you've stored on your device.
Conclusion and Download Link
While I do think that ScanLife QR and Barcode Reader has its own share of usefulness, its current features still won't be able to give more than what other QR and Barcode scanners can already provide. It's a good app. It functions well plus it looks good but it is somewhat lacking. It doesn't let me scan those QR images that I've stored on my gallery plus it doesn't let me create a different variant of QR codes aside from QR contact cards. Nonetheless, if you're primary purpose is only to scan QR codes directly from certain items or products, this app can definitely do the job but if you want more advanced features, I would suggest that you try Zxing Team's Barcode Scanner.
Price: Free
Version reviewed: 4.9.5.1
Requires: Android 2.2 and up
Download size: 11MB
ScanLife QR & Barcode Reader on Play Store
Related Posts