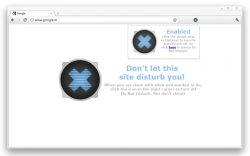 Let's just say that you're supposed to do your work and yet, you can't help but get too distracted by the thought that you need to check your Twitter and Facebook. In reality, these things can wait but since everyone has the tendency to procrastinate, most people tend to lose their focus and in the end, they've lost their precious time to do something productive. If you have a serious case of letting yourself go off-track, you might as well consider using a work or study aid such as Do Not Disturb.
What is it and what does it do
Main Functionality
Do Not Disturb is a simple yet very useful Chrome browser extension that can act as your work or study aid. With Do Not Disturb, you can intentionally block all of the sites that you don't need. Speaking of which, this browser extension works in both ways. It can "block" and "unblock" specific sites regardless if that site is part of a top-level or sublevel domain.
In other words, you can set the extension to "unblock" specific sites and leave the rest in restricted state. Another option is to "block" those sites that could distract you from completing your tasks.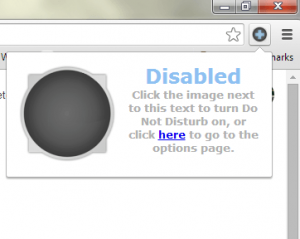 Pros
Easy to use, non-obtrusive
Stable and responsive
Configurable settings
You can set your proffered pause time and pause wait time – If you pause the extension, you will be able to browse all sites without restriction. However, this option can only last for a maximum of 9 minutes and 59 seconds.
Can permanently block sites even if the extension is turned off
Supports notifications
Cons
Should have a more robust anti-cheat system – like, for example, the said extension could prompt a user to type a password or solve a complex puzzle before he or she could turn the system off
Discussion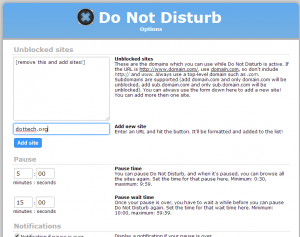 The way how Do Not Disturb works is quite simple. You download and install it on Chrome and once it's installed, you can configure its settings according to your own preference. With this extension, you basically have two ways to keep yourself focused on what you need to do.
In other words, you can opt to restrict your access to every site and only "unblock" those that you truly need. As for your second option, you can opt to limit your access to specific sites and leave the rest in unrestricted access. The latter option is suitable for tasks that would require a user to do some web research.
Functionality wise, I can say that Do Not Disturb works just fine. It is stable, responsive and free from bugs or glitches. It is also very easy to use plus you are free to configure its settings in any way that you want. What I also like about this extension is that it can be paused for a short period of time. This way, you can browse any site without any restriction which is quite handy especially if you want to take a quick break. Just keep in mind that the pause feature will only last for 9 minutes and 59 seconds. After this, Do Not Disturb will resume and you need to wait for at least 10 minutes before you can pause it again.
Anyways, I don't really have any serious issues or concerns regarding this extension. It basically does what it is supposed to do. I just find its anti-cheat system too lax. Although it would prompt you with confirmation messages before you can fully disable its system, it is still not enough to convince a user to refrain from cheating. Thus, it would be nice if this extension could add a more robust method for preventing its users to cheat like prompting its users to enter a password or solve a complex equation or puzzle.
Conclusion and download link
All in all, I can say that Do Not Disturb for Chrome is a very reliable productivity tool. It can help you stay focused and refrain from doing unnecessary things such as wasting your precious hours watching videos rather than doing your homework. It's just that this tool certainly needs to improve its anti-cheat system since you can't always expect everyone to abide to rules especially if they're too addicted.
Price: Free

Version reviewed: 2.0.1

Requires: Chrome on Windows XP, Vista, 7, 8, Linux or Mac

Related Posts