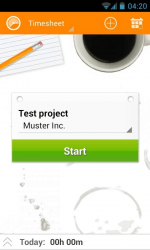 Time tracking software and apps are a must especially if you want to gauge your performance in completing a specific task. However, not all time tracking software can provide you with the tools and features that you need. Speaking of which, Timesheet Time Tracker is a free time tracking application that you can download and install on your Android device.
What Is It and What Does It Do
Main Functionality
As I've already mentioned, Timesheet Time Tracker is a free time tracking application for Android that can track and record the time that you spend on your tasks. It's like a punch in/punch out clock but instead of using a punch card, you get to record your work time by pressing start, pause or stop. Apart from this, this app is also designed to help you sort out your tasks by clients and projects. You can also export your records in XLS or CSV format.
Pros
Easy to use
Neat, stable, responsive and well-designed UI
Configurable settings and options
Has a wide range of essential tools and features for tracking and recording time
You can export your time report in XLS or CSV format
Supports tags, salary currency, location tracking, project sorting and work breaks
Works offline
Cons
None that I can think of but it would be nice if this app could add more features like timer notification sounds, charts and time tracking per second
Discussion
I've already tried a couple of time tracking applications and while most of them did well, they just can't seem to provide the features that I want. Like, for example, one app may be able to keep a detailed record of your work time but it won't let you export your record as CSV or XLS. To avail this feature, you'll need to pay and upgrade which is something that I don't really prefer.
This is why I prefer Timesheet Time Tracker. Not only does it have the capability to work offline, it also flaunts a convenient and user-friendly interface that has all the essential tools that you need to track and record your work time. Of course, it could take a while before you get used to the app's interface and controls but once you get the hang of it, it will be much easier for you to track the time that you spend on your work tasks, projects and even on your house chores.
To use Timesheet, you simply need to enter the name of the project that you're currently working as well as the name of your client. Once you're done setting up your task, you can start tracking your time by pressing the "Start" button. Furthermore, the app's time tracking system works like a stopwatch/timer so once you're done with your task, just press the "Stop" button.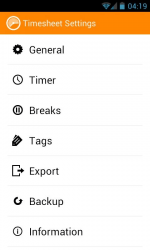 You can also monitor your current and previous records according to their respective time range. In the timesheet section, you will also be able to view all of your pending and completed tasks as well as the total number of hours that you've spent in completing your work.
Another thing that I like about this app is that it lets you export your time sheets (records) in Excel (XLS or CSV) format so it makes it very convenient for you to send a copy of your work activities to your client or employer.
All in all, I can say that Timesheet Time Tracker is a very useful time tracking application. It can be very handy for users who are constantly working on time-bounded projects. This app is also suitable for freelancers.
Functionality wise, this app appears to be free from any glitches, bugs or lags. It works well, it does what it is intended to do plus it can run offline so you don't have to worry about the fact that your timer might suddenly stop just because you got disconnected to your Wi-Fi connection.
Conclusion and Download Link
Timesheet Time Tracker proves to be a noteworthy time tracking application. It has all the essential features that you need to record and evaluate your work performance. It may not be perfect in all aspects but it is definitely worth checking out. So why don't you go ahead and give this app a try?
Price: Free
Version reviewed: 2.0.9
Requires: Android 2.2 and up
Download size: 2.7MB
Timesheet Time Tracker on Play Store
Related Posts