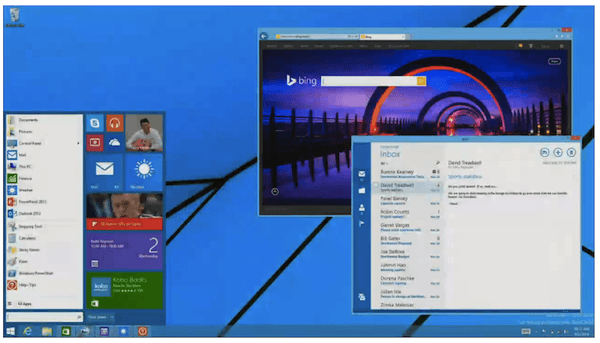 Microsoft may have fully acquire the Nokia mobile division but that doesn't mean it's forgetting it's main product, the Windows platform. Nokia, now called Microsoft Mobile, is just one part of the Redmond giant. As for the OS division, Microsoft is still busy with improving Windows.
It is no longer rumor that Microsoft is set to bring back the Start Menu to Windows 8. Yes, that menu that made our lives easier. We don't know when it will come back exactly but a rumor by ZDNET from "sources" say it should be back in an Windows 8.1 update this August.
Terry Myerson, Windows and Xbox software head, showed off an early prototype of the renew Start Menu, which appears to be a hybrid Windows 7 Start Menu and Windows 8 Live Tiles.
Aside from the Start Menu, Windows 8-style Metro apps will also run. Windowed apps and the Start button, all these and more before the grand launch of Windows 9 which we expect to be revealed in 2015. It's obvious that it will have the Start button as well. Why else would Microsoft bring it back?
Microsoft still needs to fix a lot of things with Windows. The current platforms being used are so unlike our favourite Windows XP which recently bowed out of the scene. Fixing the errors is becoming more like a need because Windows users are seeing more problems. Unlike Apple and the Android team that roll out software updates as frequently as possible, Microsoft isn't as aggressive despite the demand. We're hoping this will change moving forward.
[via The Verge]
Related Posts