The Firefox New Tab page, that shows your most visited site pages on a grid, is customizable. However, the browser doesn't include many native customization options with which to change the New Tab page background, thumbnail images, grid size, etc. As such, New Tab Tools is a must have add-on for customizing Firefox's New Tab page.
Add the extension to Firefox from this website. Click the + Add to Firefox option on that page, and then open the New Tab page. You should find that there is now a cog icon, circled red in the shot below, at the top right of the page.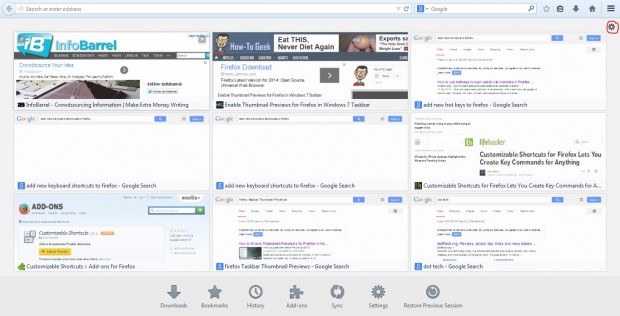 Click on that icon to open the New Tab Tools add-on options as below. To change the background of Firefox's tab page, click on the Browse option, within the Page Background Image box, near the bottom of the panel. Then choose background wallpaper for the New Tab page, and click Set Background to add it.
You can also change the thumbnail images on the New Tab page. Select a thumbnail on the page from the Select a title drop-down list. Then click the Browse option just below that list, pick a background wallpaper and select Set thumbnail. That adds an alternative image to the selected thumbnail as below.
The Firefox thumbnail tiles do not fit in the full image. However, this add-on includes a Tiles should contain whole thumbnails check box option. You should select that check box to fit the full images in the thumbnails as in the shot below.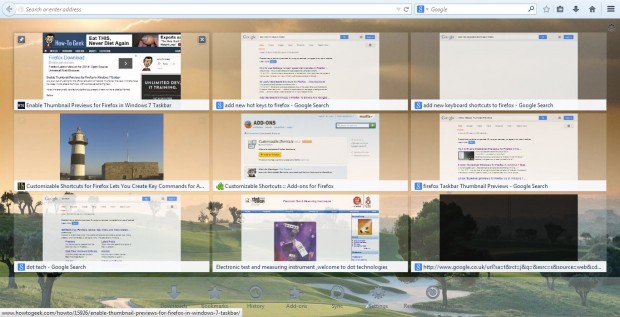 In addition, this add-on also has options with which to customize the number of rows and columns on the tab page. Those options adjust the size of the thumbnails on the New Tab page. Click on the More options button at the bottom of the panel to open the Add-on Manager tab below.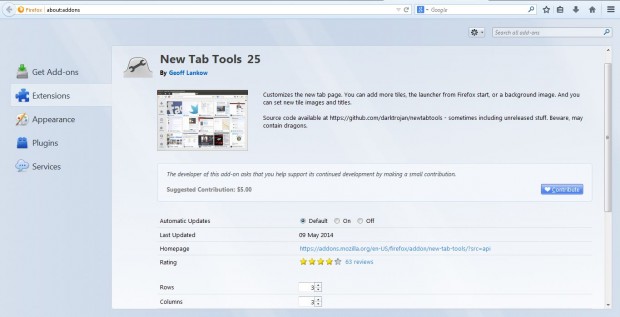 There enter alternative numbers in the Rows and Columns boxes. You can also include recently closed tabs on the New Tab page by selecting the Show Recently Closed Tabs check box. After selecting some options, return to the New Tab page which should now have more or less rows and columns as below.
Overall, New Tab Tools has a variety of customization options for Firefox's tab page. With this add-on, you can transform the New Tab page with additional rows, columns, background wallpapers, thumbnail images and more besides!
Related Posts