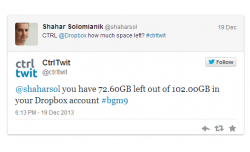 Wouldn't it be nice if you can remotely control some apps by simply tweeting a particular command? Well, the truth is, such a thing can be made possible. As a matter of fact, you might be doing it already. You're just not that aware about it. Anyways, the time has come for you to learn how to execute some helpful tweet commands. All you need is a simple web app like CtrlTwit.
What is it and what does it do
Main Functionality
CtrlTwit is a simple web-based application that can literally turn your tweets into commands. In other words, this web app can remotely control your other applications via Twitter. You just need to tweet your app command or question and that's it. You're done. As of now, CtrlTwit supports various apps like YouTube, Pocket, Foursquare and Instagram. It's also free to use plus you're not required to create a user account.
Pros
Easy to use, great for Twitter power users
No download or user registration required – you just need to have an active Twitter account
Supports various apps like YouTube, Foursquare, Pocket, Dropbox and Instagram
Simple tweet commands
Fast, secure and accurate
Saves a lot of time
Cons
Needs to support more apps and provide more useful commands
There's a tendency for your Twitter timeline to look too "robotic" especially if you're frequently using the app to carry out various commands
It could take a while for you to remember all of the commands
Discussion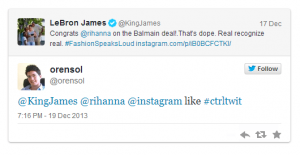 Putting your tweets into good use is something that CtrlTwit can definitely do. From simple tweets, you can actually do a bunch of things such as remotely controlling your apps. It is also very simple and convenient to use. With CtrlTwit, you don't need to download any additional software or application. You don't even need to register or create a user account.
So how does this web app works? Well, it's very simple. You just need to learn a couple of useful CtrlTwit commands and then you post that command via Twitter. Apparently, you'll need an active Twitter account.
Speaking of which, here are some of the commands that you can post via Twitter:
Check your remaining storage space on Dropbox: CTRL @dropbox how much free space? #ctrltwit
Like an Instagram photo by replying to any tweet with Instagram photo: @instagram like #ctrltwit
Get a quick restaurant recommendation from Foursquare: CTRL @foursquare where to eat? #ctrltwit
Quickly save a link to Pocket: @pocket save #ctrltwit
Subscribe to a YouTube channel: @youtube subscribe #ctrltwit
Respond to a meetup: @meetup rsvp [yes|no|maybe] #ctrltwit
Just tweet any of the commands above and you'll automatically get a response from CtrlTwit via @mention. For first time users, you will be prompted to verify your command by logging in to your requested application. After that, the web app will automatically remember your associated accounts.
Anyways, learning all of the commands listed above can take quite some time but once you get used to it, it won't be that much of a hassle.
Functionality wise, I can say that CtrlTwit is useful in many ways. It's just that it still needs to support more apps. The same goes to its list of available commands. It would be nice if this web app could also provide commands for Facebook, Pinterest, Tumblr and Google Plus.
Even so, not all users may like the idea of using tweets to remotely control apps. While this may seem convenient for others, some users don't really want to see a bunch of "robot-like" tweets on their news feed. This, of course, could cause a negative impact to your follower count but if you don't use the commands that often, I doubt that this will happen. Just make sure to abide the basic Twitter rules and don't spam.
All in all, CtrlTwit provides an opportunity for both users and app developers to make the most out of Twitter. This app is also great for those who are constantly checking out their Twitter accounts. By tweeting a simple command, you can immediately execute an action without having to switch and log-in to another app. With this, you can accomplish multiple tasks at the same time.
Conclusion and download link
If you are an avid Twitter user, you might as well check out the things that you can do with this app. With CtrlTwit, you can remotely control a bunch of apps such as YouTube, Foursquare and Instagram. It is also very easy to use. You won't lose anything if ever you decide to give it a try.
Price: Free

Version reviewed: N/A

Requires: Twitter on Chrome, Firefox, Safari, Opera, Android, iOS, etc.

Related Posts