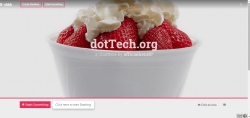 Do you have a habit of putting various things inside your secret stash? Well, it's not like you're the only one doing it. As a matter of fact, most people do. It's just a bummer that you can't do the same for the things that you randomly find online. The closest thing that you can do is to add them as bookmarks. Speaking of which, that is bound to change especially now that Stashhh.me has officially arrived!
What is it and what does it do
Main Functionality
Stashhh.me is a newly launched web app that aims to provide you with a flexible platform where you can store and share your favorite collections. Simply put, Stashhh.me is all about the things that you collect. These are the things that you can usually find on the Internet. Through this web app, you can store and organize your stuffs by placing them into their respective stashboxes. You're also free to stash whatever you like may it be a link, a text, a conversation, a quote or a bunch of interesting photos.
Pros
Easy to use, social
Nice and simple layout, the UI is responsive and stable
Features public user profiles which highlights the user's public stashboxes and posts
Users can edit the viewing permission for their stashboxes and posts
Users can collect and share various types of content such as texts, links, photos, quotes and conversations
Customizable profiles and user options
Supports other web browsers, not just Chrome
Cons
Needs further improvement – most of the web app's tools and features needs to be polished in such a way that they would become more useful and appealing; it would also be nice if the said web app could add more features that would definitely stand out from the rest
Discussion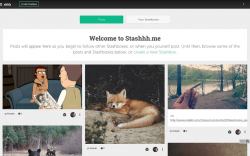 A stash usually refers to a person's secret collection. Like, for example, a stash of sweets or a stash of dollar bills and coins. So when I first learned of Stashhh.me, the first thing that came to my mind was a platform where one can secretly keep things that can be found on the Internet. Anyways, that is exactly what this web app is for.
As I've mentioned above, Stashhh.me is all about the things that you find and collect. It is a place where you can store and organize your collections. To be honest, there's a close similarity between this web app and Pinterest. It's just that with Stashhh.me, you get to "stash" your stuffs to their respective stashboxes while the latter lets you "pin" and share your collections as boards. It should also be noted that this web app supports both private and public collections. It also supports user collaboration. This simply means that you can allow others to post to your stashbox.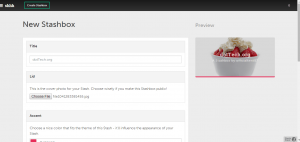 Other than this, Stashhh.me also serves as a content sharing community. So once you've joined the community, you will automatically have your own public profile. In your profile, you can feature all of your public stashboxes and posts. You can also follow others and "restash" their posts.
All in all, I can say that the concept of Stashhh.me mainly revolves around content sharing and collections. I like the fact that it is easy to use. I also like the fact that it is web-based, so there's no need for you to install or download any additional software or extension. It is also good to know that it lets its users control the viewing permissions for their collections.
Even so, I do feel that this web app could still be improved or polished in many ways. Since it's new, there are still a lot of features and tools that it cannot provide. One good example of this is the ability to directly share one's stash to others via email, Twitter or Facebook. There's also no way for a user to like or rate a certain post.
On the brighter side, I find Stashhh.me quite useful for private collections. It serves as a good place for one to keep his or her collections of random online items like links, quotes and stock photos.
Conclusion and download link
Stashhh.me is a good place where you can keep and post things that you don't want to post to other content sharing communities and social networks. However, it's still a fairly new web app so don't expect that it can provide you with all the features that you want. Fortunately, it is stable and responsive enough for you to use on a regular basis. It can also serve as a decent alternative for Tumblr or Pinterest. So go ahead and check it out.
Price: Free

Version reviewed: N/A

Requires: Works on any web browser (Chrome, Firefox, Safari, Opera, etc.) on any major desktop operating system (Windows XP, Vista, 7, 8, 8.1, Mac OS X, Linux, etc.)

Related Posts