Sometimes hard drives croak. Maybe you're writing an essay and your computer catches fire. Perhaps you deleted that file that you needed by accident and now you don't have it. If you did not make external and/or offsite backups, you are SOL. Today we take a look at some of the top free online backups that could potentially save you when a disaster strikes.
In round one of the Free Online Backup Showdown, we take a look at the purported features, speeds, and prices of six popular online backup services. The contenders are Mozy, which advertises about automated online backup; ADrive.com, which boasts about its free 50GB of storage; Windows Live Skydrive, another popular tool from Microsoft; IDrive, claiming to protect your critical data; Dropbox, another popular storage site used for both sharing files and keeping backups of private files; and humyo.com, which wants to improve your efficiency.
When it comes to selecting an online backup service, something you need to ask yourself about an online backup is what do I want from an online backup?
What do I want from an online backup?
There's a lot of things to find in an online backup tool. Do you want to share files with friends? Have your data backed up (and not waste bandwidth)? Do you want your financial documents the pictures of your dog secured so no one else can hack into them? Lots of free storage space? A fast connection? Are you OK with uploading through a web browser, or do you want a program to do it for you? The following chart answers those!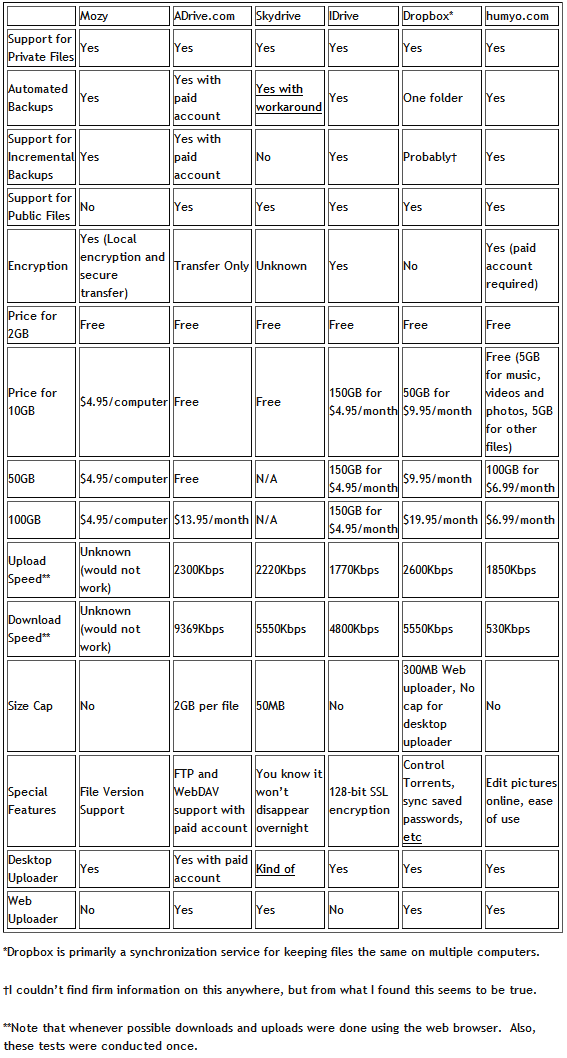 (Click on the chart to view it in full size.)
My Favorite
My favorite service was probably Dropbox. Its Windows Explorer integration is superb and has a tiny learning curve. Its public folders have simple right click options to copy the link to public files. That text file was just saved like any other file, right into the Dropbox folder. That's how easy it is! It also has a Photo Gallery option:
Dropbox photo galleries allow you to share photos with anyone (even non-Dropbox users). These photos will be presented in a photo gallery that is viewable online.
Pretty cool, no?  You can even get an extra 250MB by signing up at this link!
What I liked
From what I used of these online file backup sites, I liked what I saw from Skydrive, Dropbox, ADrive, IDrive, or Dropbox. They were all pleasant to use and fairly quick too. I'd recommend to a friend that wanted a desktop client Dropbox- one of the major things that makes Dropbox popular is its integration with Windows. For someone who didn't care about that kind of thing but wanted lots of free space, I'd choose ADrive. Why? It has a lot of free space-50GB-for free.
What I didn't like
One word: Mozy. It was slow on the old laptop I tested it on (what wasn't?) and even refused to let me upload a custom file and at multiple times either froze or refused to log in. Given that uploading a single file was how I was testing these, I really don't like that. Another thing I didn't like was humyo for the sole reason of its extremely slow download speed. Perhaps it was other people on the network, but on this 20Mbps connection (~16Mbps, or 2MBps, if used at a fast site) I don't want my 36MB files taking nine minutes to download.
Your thoughts
Tell us what you think. Do you use an online backup service? Will you ever use an online backup service? Which one is your favorite (your favorite does not have to be from the five that were reviewed in this article)? Are there any features you find that all backup services lack but you would like them to have? Feel free to share it all in the comments below.
Photo credit: alexmuse
This article was originally written by Locutus at his blog Cogizio on March 20th, 2010.

Related Posts