When you download software with Google Chrome, the browser keeps virtual copies of the downloads. If you're not entirely sure where you downloaded a document file or software setup wizard to, you can find them by opening Chrome's download list. The list shows you a recent download history.
To open this list, enter Chrome://downloads in the browser's address bar. Alternatively, press the Ctrl + J shortcut key. Both the address and shortcut key open the page in the shot below.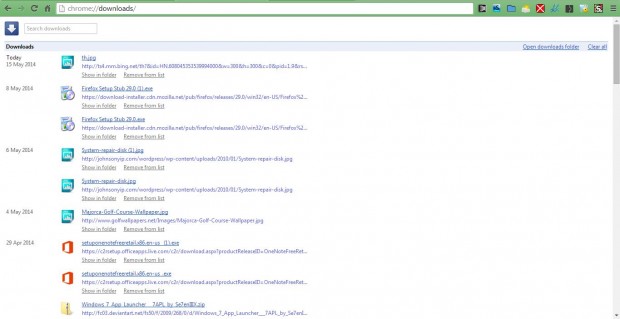 From this list, you can now find the exact folder location of the downloaded files. Under each of the items in the list there is a Show folder option. Click on that option to open the document file or software setup wizard in Windows Explorer as below. Or you could just click on the download titles on the list. That will either open the document files with suitable software packages or the software setup wizards.
To delete downloads on the list, click the Remove from list option. Note that doesn't remove the source file, but deletes the source of the download. As such, you cannot download the file again without first locating its source. Click the Clear all option to clear the entire list.
Opening the list of recent downloads is a more effective way to search for them than from Start menu search box. Now you can locate and open recent Google Chrome downloads almost instantly from this list. 
Related Posts